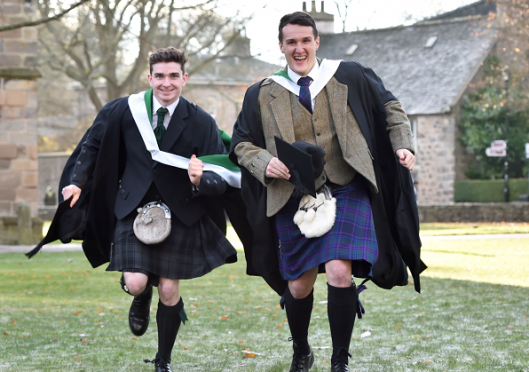 Ryan Clunie and Fergus Randall first struck up a friendship when they met at Aberdeen University.
And yesterday, as they graduated, it was the camaraderie of their course they admitted they would miss the most.
The pair were both awarded a masters in integrated petroleum geo-sciences, which they collected at the university's Elphinstone Hall.
Mr Kendall, from Keith, said it felt "phenomenal" to finally collect the degree.
He said: "It's great to finish, it's been intense, it feels phenomenal to be sitting here."
Mr Rendall, 23, and Mr Clunie, 27, from Portlethen, both successfully completed a geology degree together prior to embarking on their masters.
And they said this year's course were a tight-knit group despite coming from a variety of different backgrounds.
Mr Clunie said: "We've got a strong group of guys here and I'll miss that, because there's a lot of international students so it's going to be difficult to have reunions in the future."
One of the events the pair say they will look back on most fondly is a trip to America earlier this year.
Along with their classmates, they visited Utah for a two-week field trip before they hired two mobile homes and travelled from Las Vegas to San Francisco.
They have both now secured jobs, with Mr Rendall signed up for a commercial banking graduate scheme, and Mr Clunie now working as an analyst for Scottish Water.