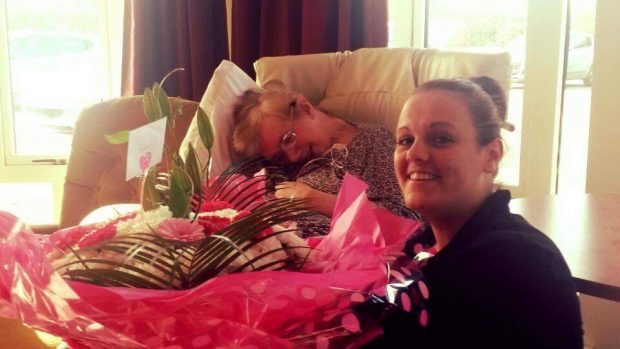 A grieving woman has branded a north-east care home "disgusting" after staff threw out her mother's belongings just days after she died.
Alison McKenzie lived at St Modans Care Home in Fraserburgh for 10 years.
When she died last month, her daughter Emma made arrangements for her personal belongings to be gathered up and put aside, so they could be returned at a later date.
But when the box was dropped off at a relative's, Miss McKenzie was horrified to find just a small collection of CDs.
Distraught, she called up the home and demanded to know where the rest of her mother's things were. She was later given another small box, containing a blanket and some photos.
Last night, a spokesman for care home operator Meallmore Ltd said a full investigation into the "unacceptable" incident was under way and apologised.
Miss McKenzie said it had been a "kick in the teeth" when she discovered staff had binned the gifts and drawings her 10-year-son Michael had given his grandmother.
The 26-year-old, from Peterhead, said that after her mother died, it was agreed staff would pack up her belongings and drop them off so she would not have to go back to the home.
"I was grateful at the time, because I didn't want to go back into her room," she said.
"After the funeral on November 1, they only dropped off a tiny box of CDs. I phoned them to ask where the rest of her things was, but they only gave us one other box of things back.
"There was hardly anything in it. There was none of my son's presents that he gave her, none of her blankets – her CD player was even gone.
"All of her ornaments, mugs and a ball that she used to play with when my son visited were gone.
"They said they were sorry, but they were all thrown in the bin."
The family eventually contacted management at the home, who said an investigation would take place into why the items were disposed of.
"I find it hard to believe they were thrown in the bin," Miss McKenzie said.
"There were things that people may have thought they could use. I can't see anyone throwing out that many things.
"She was there for 10 years, and all I have is one box with a blanket and a few photos. I'm devastated.
"It's little things – memories that I'll never get back – that hurt me the most, like her pink sun hat or the football she and my son played with. I can't be reimbursed for that."
A spokesman for the home yesterday apologised to the McKenzie family.
He said: "Both the home manager and the area manager have been in contact with the resident's family regarding this incident. We wholeheartedly apologise to the family and have instigated a full investigation.
"The fact the former resident's belongings were disposed of is entirely unacceptable. Once our internal investigation has been completed, we'll be reviewing our internal processes to work out what went wrong and how similar incidents can be prevented in the future.
"We know how painful the loss of a loved one can be and supporting a resident's family at this difficult time is one of our top priorities."
The firm also operates Sunnybank Care Home in Cruden Bay, where bosses had to apologise to a family earlier this year after failing to tell them their mother had been injured in a fall.
Jill Symmonds, 78, was allegedly left unsupervised and suffered a fit.
She fell and badly damaged her face and her family only found out when they called to check on her.
A spokesman for the home said loved ones had not been informed because of a "retraining issue" with he member of staff involved.