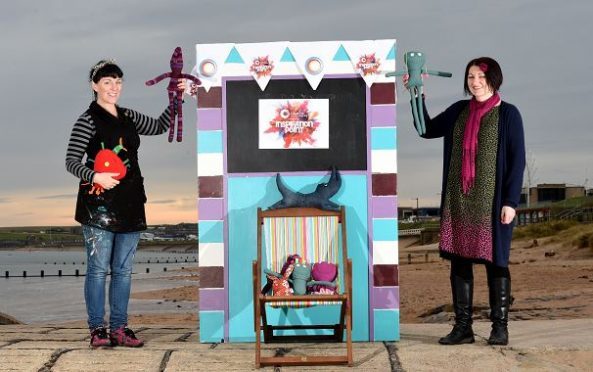 A "beacon" for the creative arts will be popping-up around Aberdeen in the coming weeks.
Project 'Inspiration point' includes a pop-up beach hut that will house recoding equipment and on occasion a "real person".
Visitors to the hut will be able to leave messages about what motivates them to be creative, which in turn will be collated to produce several Pechakucha-style presentations of the whole project at the city's Lemon Tree.
The project will also help to facilitate career progression for artists in the north-east and also act as a social engagement programme for creative groups including children, young people and older people who, it is hoped, will pass on skills such as knitting and singing.
The project is funding three separate residencies, the first of which is being taken up by Elaine Grant, who will be the visual artist in residence who beat off 11 other north-east artists.
Kerry-Anne Cairns, creative project co-ordinator for Creative Learning, said:
"Elaine was one of 12 applicants for this position, but she really stood out because she has the desire to create and wants to work on a larger scale. Her inspiration comes from children's drawings, she makes the 3-D versions of them; they are amazing!
"The hut will be a beacon for our pop-up events, there will be recording equipment inside and sometimes a real person. People will be prompted to let us know where their creative inspiration lies. We think all creativity is valid and we want people to share it."
The hut will be popping up at venues all over the city, most notably on the number one bus route.
Gray's graduate Elaine Grant, Aberdeen said:
"I make textile creatures and dolls from reclaimed fabric; recycling and repurposing. I have collected materials for years, more recently it has been my children's clothes. I've just made a red creature for a young boy who sent me a drawing; I can't wait for him to see it!"
On the Lemon Tree event, Ms Cairns said: "I like the idea that it will be a physical directory, it's not as dull as a career fair; it will be much more interactive. "
The Inspiration Point Celebration event will be at The Lemon Tree on Friday, February 17 to Saturday, February 18.