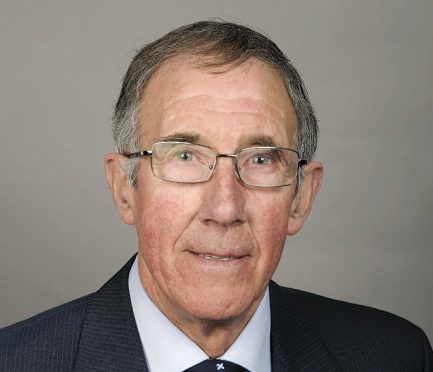 Opponents of a politician's controversial wind farm proposal accused councillors of "a farce" after they put off a final decision.
Aberdeenshire Council's infrastructure services committee (ISC) met yesterday to examine Turiff councillor Sandy Duncan's application for a 150ft structure at his land in Beechwood, Forglen.
But members agreed a site visit should take place before the issue is determined.
Objectors who had travelled more than 35 miles to make representations were left fuming.
They included members of the Marnoch and Deveron Valley Protection Group (MDVPG) and Alvah and Forglen Community Council (AFCC).
The wind turbine proposals were first submitted three years ago, with planning permission subsequently withdrawn twice.
A legal challenge at the Court of Session delayed the scheme earlier this year and planning approval was held up again last month when Mr Duncan was accused of "cronyism".
It emerged the SNP councillor had sent e-mails, using his council account, which called for party members on the Banff and Buchan area committee to support his plans.
He has denied any wrongdoing since sending the e-mails and has referred himself to the Standards Commission.
Planners had recommended the application be refused due to the impact it would have on the Deveron Valley.
However at the start of the meeting, Conservative councillor Ron McKail successfully brought forward a motion for a site visit.
AFCC secretary James Bayne, who had prepared to speak at the meeting, said it was a "farce".
He added: "There is enough information about this to make a decision. I am appalled we came here and nobody can make up their minds. It is just over an hour away. As far as we're concerned it crucially doesn't meet the LDP.
"There was another speaker that came down and one of the local residents came down with his wife."
Forglen resident, John Burns, said it was "a great disappointment".
Speaking afterward Mr McKail said he had called for the site visit in order to treat the application as they would at an area committee.
Aboyne, Upper Deeside and Donside Lib Dem councillor Peter Argyle, who argued for the committee to hear the planning department's assessment of the application before deciding on a visit, said he was "disappointed" it hadn't.
The plans will come back to a future meeting of the ISC.