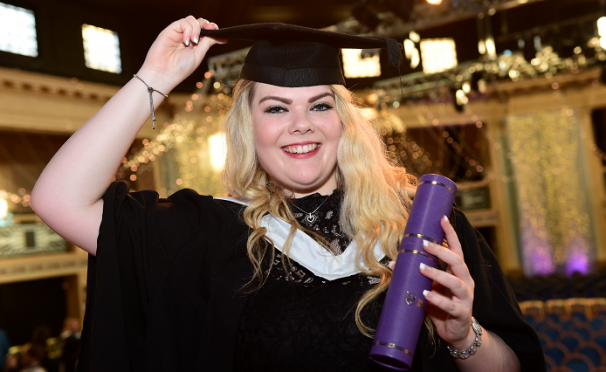 Nursing isn't just a job, but a life's vocation for Nicola Brown.
And the 21-year-old Fraserburgh student is preparing to begin her career after graduating at a Robert Gordon University ceremony yesterday morning.
Miss Brown, who collected her bachelor of nursing degree in mental health at Aberdeen's Beach Ballroom, explained she has wanted to be part of the profession ever since she attended the RGU Nursing Summer School scheme during her sixth year at Fraserburgh Academy.
She said: "I have always been passionate about becoming a nurse, so I signed up for the summer school to get a chance to experience the different fields of nursing practice.
"The training facilities and teaching resources at RGU were absolutely of a high standard, so I knew I would receive quality training whatever I went for.
"The fantastic range of placements and experience in the mental health services at NHS Grampian really stood out to me, so I knew that was the area which I wanted to get into."
During her time at RGU, Miss Brown undertook placements at Aberdeen's Royal Cornhill Hospital, the Timmermarket Clinic, the Aberdeen City Community Psychiatric Nurse service and Inverurie Hospital.
She said: "The mentoring I received and the experience I gained on my placements were invaluable and I am thankful for everyone who helped enhance my training.
"I enjoyed the fact no two days were ever the same and I was able to learn how to care for such a wide variety of people, ensuring their care is recovery focused."
Now that she has graduated from RGU, Miss Brown will take up a post as a registered nurse at Royal Cornhill Hospital.
She added: "It still feels surreal that my university experience has come to an end, but I have had some amazing experiences both in class and on placement.
"I'm proud I managed to complete my degree and look forward to going back to Royal Cornhill Hospital and working with people in a field I'm passionate about."