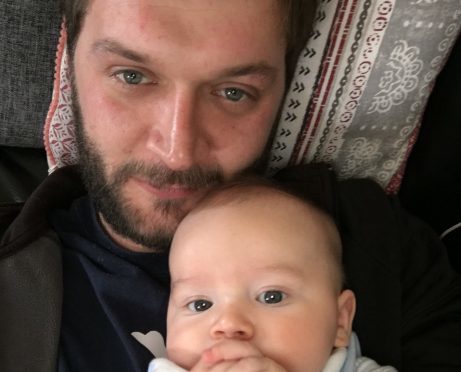 A dad who welcomed his baby boy into the world just five months ago has died from an asthma attack.
Ian Fairweather only suffered from mild asthma, but collapsed during an attack and could not be saved.
The 33-year-old and his partner Mhairi Smith moved to Alford in May, and celebrated the arrival of baby Cameron just a few months later.
Last night, his devastated family described the golf lover as a "big softie" who was well thought of by his colleagues in the oil industry.
Miss Smith revealed the pair had enjoyed a whirlwind romance, and had moved to Donside for a "better life" for their son.
She said: "I met him in the start of March 2004 in Huntly, and by June of that year I'd moved in with him in Aberdeen.
"We had just moved out to Alford in May for a better life for our son Cameron, who was born five months ago.
"He loved his son, he was a very proud dad.
"He was always a big softie, but having a kid just brought that out in him even more.
"He only suffered from mild asthma, it has come as a massive shock to all of us."
Mr Fairweather grew up in Huntly and attended the Gordon Schools before studying at the Robert Gordon University in Aberdeen.
He worked at Tyco, in Altens, for 12 years where he dealt with fire suppression for workers the oil and gas industry.
His father, Roger, said: "I worked in the oil industry from 1979.
"When he got started, a lot of people would say to me, 'this Ian Fairweather, do you know him?' And I'd say, 'well sort of…'
"I've had so many people contact me from the industry telling me what a good guy he was."
Mr Fairweather is also survived by his mother Katie and sisters Fiona and Lauren.
His younger sister, Lauren, revealed the lengths he would go to support members of his family.
She said: "He was always reassuring, he was the one who told you everything was going to be OK.
"This time last year I was in hospital as I suffer from quite serious asthma.
"He came to see me at 8am in the morning before visitor hours were even started as he talked a nurse into letting him in."
Mrs Fairweather said her son could "talk his way through any situation" – once even managing to land himself and Lauren a tour of the cockpit as the family waited to fly to Norway.
She added: "He could talk his way through any situation.
"We lived in Norway from when he was five until when he was 10.
"One time we were heading out there, and he came over and said to Lauren in the airport 'come with me, I've managed to get us a tour of the cockpit.'
"He could just talk his way into things like that.
"He was a lot of fun."
Mr Fairweather was also a keen golfer, having taken it up when he was about 10. He was a member in Huntly and Kemnay.
A celebration of his life will take place tomorrow in Stewart's Hall, Huntly at 11.30am.
People are encouraged to wear something that reminds them of Mr Fairweather, and to make a donation to Asthma UK.