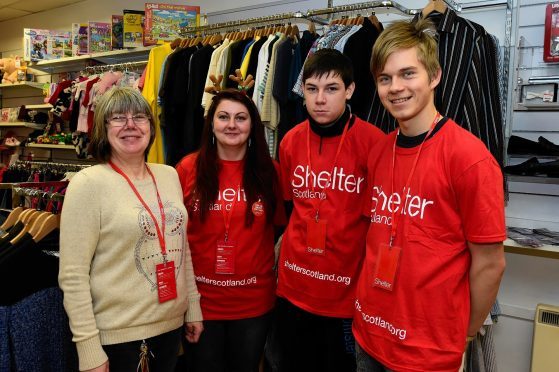 Students from a north-east college took over a local charity shop yesterday as part of a challenge to raise money to help tackle homelessness.
The students from Fraserburgh's North East Scotland College (Nescol) spent the day running the town's branch of Shelter Scotland.
The group has been learning about social issues including homelessness and spent the days running up to the takeover bringing in extra stock and training for a shift behind the till.
Social sciences lecturer Kirstie Howard said her students were "very enthusiastic" about rolling up their sleeves and joining the project.
"As part of their course the students have been studying local social issues, with focus on homelessness and bad housing being a rising problem in Aberdeen," she said.
"It was a unanimous decision to support Shelter Scotland as students see this as an opportunity to not only enhance their skills for work, but raise awareness and funds for such a worthy cause."
The charity helps people find and keep a home. Last year Shelter Scotland received nearly 29,000 calls to its free helpline.
Last night Shelter Scotland's director Graeme Brown added: "I'm delighted to see these students bringing their energy and creativity to the challenge of raising funds to help us tackle bad housing and homelessness.
"For some a call to our free, national helpline would have meant the difference between keeping their home and losing it."
Mr Brown said his organisation's work could not happen without the help of volunteers and fundraisers like the Nescol students.