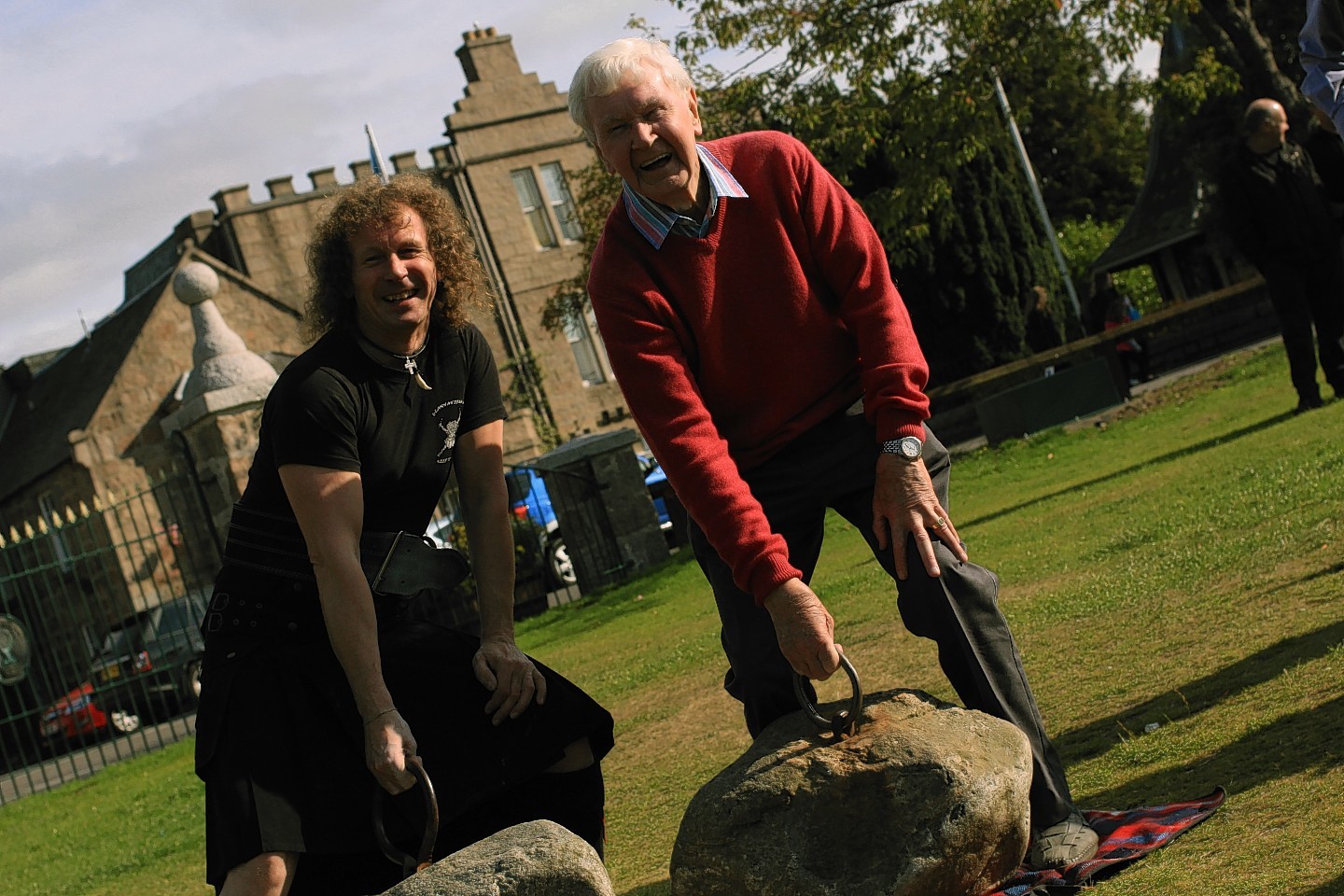 Weighing just shy of 770lbs collectively, they have long been regarded by strongmen – since the days of Donald Dinnie – as the most famous of the Scottish lifting stones.
And now, the son of the first man to recreate the legendary Birse athlete's feat of strength on the banks of the River Dee has created an online database dedicated to the history of the "Dinnie Steens".
The rocks were made famous by strongman Dinnie in 1860 when he carried them the width of the Potarch Bridge. Ever since, scores of lifters have flocked from all over the world to take on the challenge.
Now Stevie Shanks has set up a website, documenting every successful recorded lift of the stones throughout their history.
Earlier this year, the stones were returned to their historic home outside Potarch Lodge.
Belfast man Mr Shanks, who is a record-breaking powerlifter, completed a lifelong ambition in 2015 when he travelled to Aboyne to take on the Dinnie Stane challenge.
It was the fulfilment of a promise made in 1973, aged just eight, when his father, Jack Shanks, similarly made history at the Potarch Bridge.
Mr Shanks, snr, is credited with being the first person to lift the two massive stones unassisted exactly the same distance as Dinnie himself did in 1860.
In addition to charting all the lifts made of the famous artefacts, the new website offers advice for anyone thinking about tackling the challenge and has a guestbook and news page.
Mr Shanks, jnr, added: "I think the stones have found a place in the modern day. It has always been something I have been very proud of.
"I have got it [the site] fully functioning now – if you are wanting to go and lift them, it tells you what you have to do.
"It has all the details since the days of Dinnie himself, and I will be updating the website."
He had originally tried to work on an earlier website, created by the late Gordon Dinnie, but the correct passwords to access it were lost.
He added: "It was kind of a mark of respect to him and I am just delighted with the way it has turned out. I am trying to create a Highland feel. It was about three months work.
"As far as the legends and Dinnie go, I am not going to challenge or change any of that. I do have my own interpretations on things."
The site can be found at: thedinniestones.com