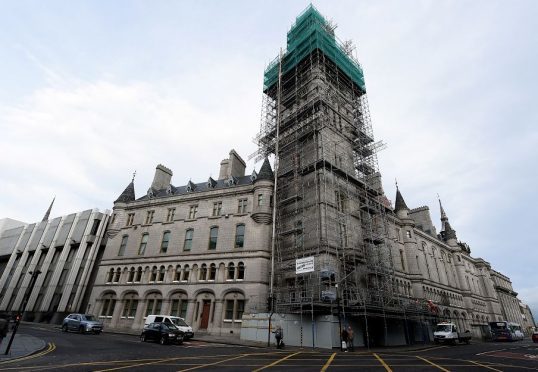 Work to repair one of Aberdeen's most historic buildings has been delayed once again.
Repairs to the Granite City's A-listed Town House will not be finished until March next year, despite hopes it would be complete by the end of 2016.
Restoration work on the A-listed building started in August 2014, but the project has been hit by a series of delays with the cost spiralling to more than £4million.
The renovation was originally due for completion by September 30, with hopes the scaffolding which is in place at the 19th-century building could be taken down by the New Year.
The repairs were ordered after lead fell from the roof at the corner of Castle Street and Broad Street, but contractors have encountered a series of complications.
Serious health and safety concerns were then raised about the stability of the roof and the clock tower, alongside issues of water ingress and damp in the Town and County Hall.
It was then discovered there were structural issues within the Town House, including rotten wood in its four towers and loose granite masonry on an attached building.
Council chief executive, Angela Scott, said: "This project, like many restoration projects on a building this age, can be frustrating as new discoveries and issues are uncovered which lead to time delays and increasing costs.
"However, the council made a commitment to bring what is one of Aberdeen's most prestigious buildings back to prime condition and protect Aberdeen's heritage.
"I'm sure future generations of this city will recognise the importance of the project, which has not only carefully respected the history and architecture of the building, but at every turn put the health and safety of the public first.
"While dates can be influenced by the weather, the contract is currently in line with the revised schedule and Aberdeen City Council looks forward to unveiling the repaired Town House next year."
The Town House building was constructed between 1868 and 1874 and has welcomed the likes of the Queen, King Edward VII and Queen Alexandra.