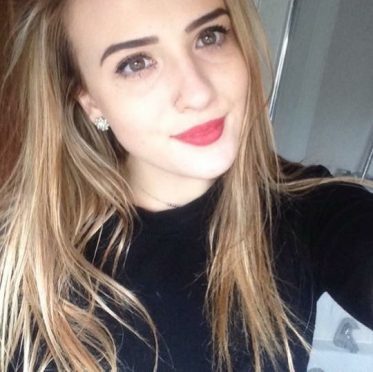 A student has been banned from the roads for drink-driving – after her own parents caught her in the act and called the police.
Shannon Downie was spotted by her family getting into her car after she returned home from a night out in Aberdeen earlier this month.
The 18-year-old had been drinking in Aberdeen city centre with friends, before taking a taxi home to Westhill.
But when she arrived, the teenage decided to take her friend home – despite being more than three times the drink-drive limit.
Downie's parents saw her leave in her red Ford Fiesta and were so "disgusted" by her actions that they called the police.
At Aberdeen Sheriff Court yesterday, the North East College student admitted getting behind the wheel while she had 69 microgrammes of alcohol in 100 millilitres of breath on December 2. The legal limit is 22mcg.
Representing the first offender, solicitor Liam McAllister said his client deeply regretted her decision.
He said: "She has a clean driving licence but has only held a full licence for a short space of time.
"She is 18 with no previous convictions and has never appeared before the court before. She fully cooperated with the police when they arrived and it was her own family who contacted the police in the first place as they were so disgusted that she had acted in this way."
He added that Downie, of Skene View, Westhill, had said getting behind the wheel that night was the "biggest regret of her life".
He said: "She has worked very hard to get into a college course. It is a two plus two course, which means this will allow her to get straight into her second year of university."
Mr McAllister said it was "completely out of character" for Downie to act the way she did.
He added: "She offers no explanation as to why she made this ridiculous decision. To say she is ashamed of her conduct is an understatement."
The court heard Downie – who gives her classmates a lift to college as part of a car pool – would now have to get the bus from Westhill to Aberdeen to get to and from college each day.
Sentencing the teenager, Sheriff Christine McCrossan said she had found herself in a "highly unusual set of circumstances".
She said: "If your own family has brought this matter to the attention of the police then I am sure you are aware, as they are, how unacceptable this is in terms of public safety."
Downie was disqualified from driving for 12 months and fined £400. If she completes the drink-drivers' rehabilitation course, her ban will be reduced by three months.
Downie's conviction comes as motorists across the country are being warned not to risk their lives as part of the police's festive drink-driving campaign.
In two weeks, 388 people in Scotland have been found to be over the legal limit, with 38 caught between the old and new limit which came into force in 2014. Last year, there were 452 detected in the entire four-week crackdown.
The campaign coincides with a Scottish Government awareness scheme to reinforce the message that "the best approach is none".
Justice Secretary Michael Matheson said: "It is disappointing that some are continuing to ignore the law and put themselves, and others, at risk.
"Drink-driving is completely unacceptable and if you get caught you face a minimum one-year ban from the roads, a criminal record, points on your licence and a substantial fine."
Assistant Chief Constable Bernard Higgins said it is "totally unacceptable" for drivers to jeopardise their lives and the lives of others.
He said: "The consequences are severe; they include an automatic ban, a potential fine and even the possibility of a prison sentence as well as being the potential to kill or seriously injure yourself or others."