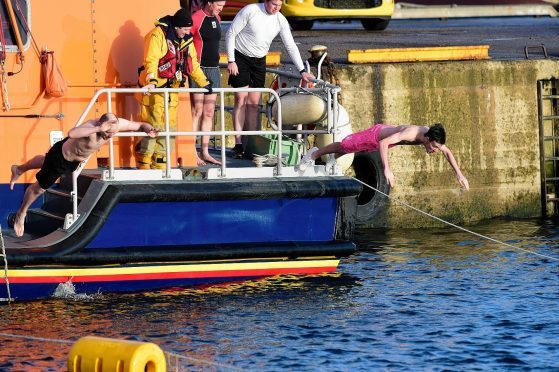 More than 20 brave swimmers took to the waters at Fraserburgh Harbour yesterday in an annual effort to raise money for the RNLI.
Fraserburgh Lifeboat's Boxing Day swim has become one of the highlights in the local calendar in recent years with hundreds of people taking part.
Since 2007, the event has raised more than £55,000 for the charity which saves lives at sea.
And yesterday, 23 more hardy divers jumped into the freezing temperatures of the port to show their support for the men and woman of their local lifeboat crew.
The youngest was 12-year-old Eilidh Sutherland – the daughter of the lifeboat's coxswain, Victor.
Last night, he said the support shown by local people who were either taking part or standing at the harbour front to cheer on those involved was "amazing".
"I would have been happy with even two swimmers taking part, so we can't thank people enough for coming out," he added.
"We had a good amount of people on the quay side, too. Maybe not the biggest crowd we've ever had, but a lot of people were probably put off by the weather."
Through the swim, strong winds and temperatures of around 4C had the spectating crowd of about 200 people huddled together in small groups.
Moods, however, remained high.
Mr Sutherland said: "A lot of people maybe thought it was cancelled.
"But I'm more than happy with the day.
"Eilidh got £700 of her own in through sponsorship, so I'm a very proud dad today.
"I would have loved to have done it with her, but I just wasn't fit enough for it this year."
Eilidh, who swam the harbour alongside friends, described the water as "cold".