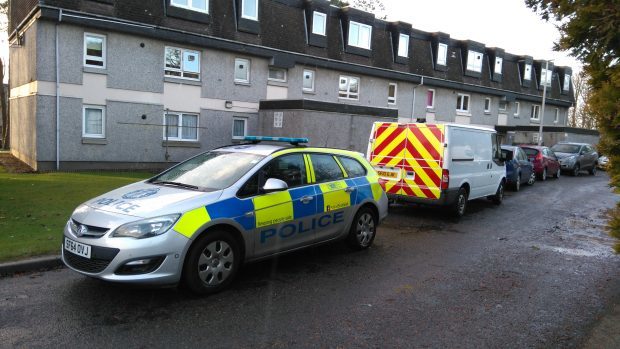 A man was recovering in hospital last night after Christmas celebrations turned sour in a north-east suburb.
The 50-year-old is believed to have been stabbed after a fight broke out in Johnston Gardens West, in Culter, at about 2.30am yesterday.
However last night police would not confirm the reports.
The incident occurred during what is believed to have been a festive party gone wrong.
Last night locals said they woke up to "thumping" and "shouting" coming from the flat, adding the incident sounded like a brawl.
A man in his 50s was taken to Aberdeen Royal Infirmary (ARI) by paramedics following the incident.
Forensics teams were spotted going into the property throughout the day.
Officers stood guard outside the block of flats for much of the morning.
One local woman, who did not wish to be named, said she had heard shouts of "that is enough" and "take it easy" coming from the flat.
She said: "We woke up with the noise. It was a terrible noise. It was awful. We could hear thumping and banging. We heard shouting. It was pretty horrific."
Another local resident said he thought the walls of the flat were "coming in" during the incident.
He added: "It was a fight of some kind. We are led to believe there was an altercation. We don't really know.
"Certainly there was a lot of police cars, and about 15 cops in total. They have been patrolling around."
Another local woman said: "It is very unusual at this end to hear music and that, it is very, very quiet up this end."
A police spokesman said: "I can confirm there was a disturbance at that address, in Johnston Gardens in Peterculter. A male was detained in custody. We are still investigating."
Yesterday an ambulance spokesman said: "We received an emergency call at 2.30am this morning to take a male in his 50s to ARI".
There were no further details on his injuries.