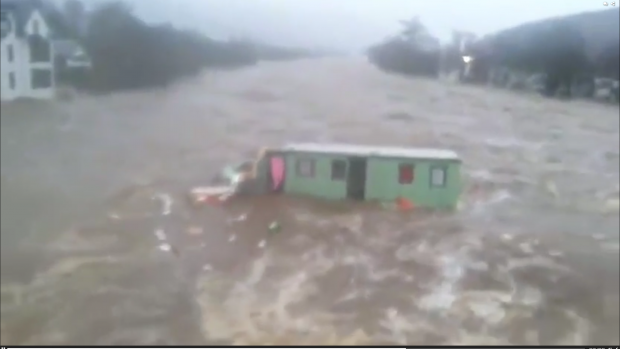 One year on from the devastating impact of Storm Frank, Aberdeen City Council is still battling to repair the damage and fortify communities across the region ahead of future floods.
From the end of December 2015 to the second week of January, hundreds of homes and businesses across the north-east were swamped by rising floodwaters brought on by high rainfall.
During the storms, SEPA recorded the highest water levels in 40 years at many local river stations.
In Aberdeen, the River Dee was estimated to be at its highest in 87 years, and the Don was recorded at its highest levels in 45 years.
During the worst of the floods, Aberdeen City Council staff were constantly on call helping residents evacuate their homes, cleaning up roads, supporting the emergency services and assisting in the cleanup once the waters had subsided.
In the year since Storm Frank hit the north-east, the city council has put in place several changes around Aberdeen as part of efforts to minimise damage from future floods.
These include design studies for a flood prevention scheme at Peterculter, in the Millside and Paddock area, installation of a storm bypass at Leggart Terrace, installation of the wetlands area at Seaton Park, flooding prevention work at the Watson Street and Cornhill areas, and more.
Jenny Laing, leader of Aberdeen City Council, said: "Storm Frank and the January flooding were devastating for many parts of the north-east and for residents and communities in Aberdeen.
"Although they were both regarded as extremely unusual events, we cannot be complacent about flooding on this scale not happening again which is why the measures were taken afterwards and will continue over the next few years.
"We hope that nothing on this scale ever happens again as we know how terrible the impact is on people to have their houses or businesses affected by flooding.
"The response by our own staff working alongside emergency services at the time was amazing, and their hard work during what were challenging circumstances, and also for work which has been carried out and will continue on flood prevention schemes around the city.
"I'd also like to thank the community groups and individuals who played such a big part in cleaning up the debris afterwards as their efforts were tremendous."