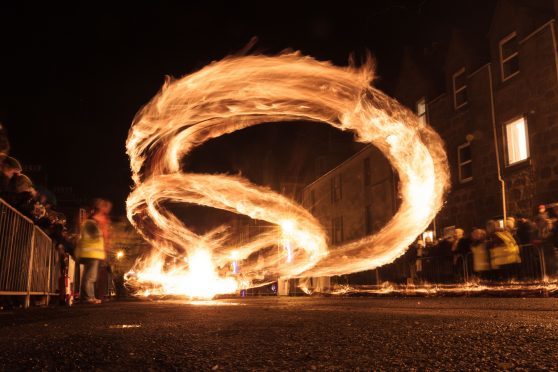 With just one more day until Hogmanay last minute preparations are being made in Aberdeenshire to herald the arrival of 2017.
Ellon revellers can welcome in the New Year at the festival atmosphere of Gig at the Brig, which is back for a fourth successive year and boasts a line-up of live bands.
Abbamania, regarded as one of the world's top Abba tribute acts, will help see in the Bells followed by a spectacular firework display and some tunes from the Ellon Royal British Legion Pipe Band.
Also performing are Emerald Sunday and Dundee four-piece Gleadhraich who will entertain the 3,000 capacity crowd.
Stonehaven will add some heat to proceedings with its traditional fireball event – a ceremony which can be traced to the early 1900s and involves locals swinging fireballs above their heads through the town starting at the stroke of midnight.
Thousands are expected to line the pavements as the participants make their way through the town centre to the harbour, accompanied by the pipes.
The ceremony is regarded as one of the best Hogmanay spectacles in Scotland.
Fireballs event organiser Ross Milne had earlier appealed for more volunteers to marshal the event. He said: "We have had a good response, but can never have too many and it would ease any worries about folks not showing up on the night."
The 'Swingers' themselves are made up of 45 locals who are chosen due to having a strong connection to the town either being current or past residents.
Mr Milne added: "It is about burning out the bad before starting the New Year fresh and has its roots in pagan beliefs.
"The fireballs are lit just before midnight so that when the clock strikes we are ready to go. From 10pm in the town, there will be a pipeband and crowds gather around the High Street to find a good place."
The fireball ceremony starts in Stonehaven at midnight and visitors are advised to arrive early. Marshal volunteers can contact the committee on www.stonehavenfireballs.co.uk
Some tickets are still available for Ellon's Gig at the Brig and can be bought on Friday and Saturday at the Market Street stall or online at: www.tickettailor.com