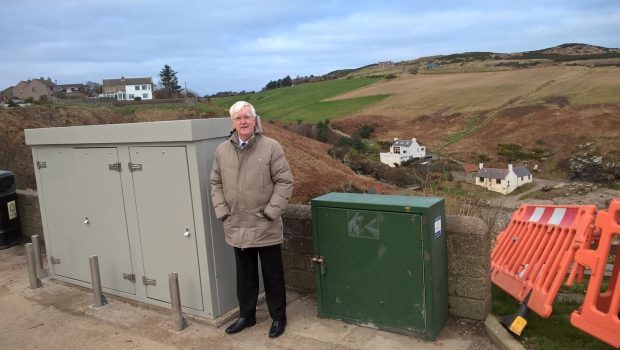 North-east residents have vented their anger at the appearance of an "eyesore", which they claim spoils their view of an iconic location.
A jumbo-sized Scottish Water control box was first spotted in Newtonhill on Tuesday and immediately caused outrage among people living in the village.
Local councillor Ian Mollison contacted the water authority to see if anything could be done about the box, including the possibility of a smaller alternative being installed.
Situated at the braehead on Skateraw Road, the spot is a favoured place for residents to sit and admire the view of Newtonhill Bay.
Mr Mollison said: "I was told about it on Tuesday – it wasn't there a few days ago as far as I am aware. It's just too big and in the wrong place – in fact it is as tall as me!
"There is a smaller box to the side which was, some years ago, reduced in size after some local protests.
"I have contacted the council to ask if they [Scottish Water] need planning permission and asked the road people if they need authority to do that as it is part of the public roadway.
"Scottish Water has replied to say they are on holiday until next week.
"But you can't just plonk things on the road willy-nilly."
The site houses a sewage pumping station underground, which takes foul water from Muchalls and Newtonhill and pumps it to Newtonhill Bay, eventually carrying it to the water treatment plant at Nigg Bay in Aberdeen.
The wall behind the box provided a safe place to stand while enjoying the picturesque scenery.
But Mr Mollison added: "It now obliterates a large part of the view. It is insensitive and it is huge. I don't see why they can't add it to the underground chambers, as they have been excavating there recently."
A photo of the box was posted online and immediately sparked angry comments, with people describing it as "hideous", "an eyesore" and "incredible".
No response was available from Scottish Water.