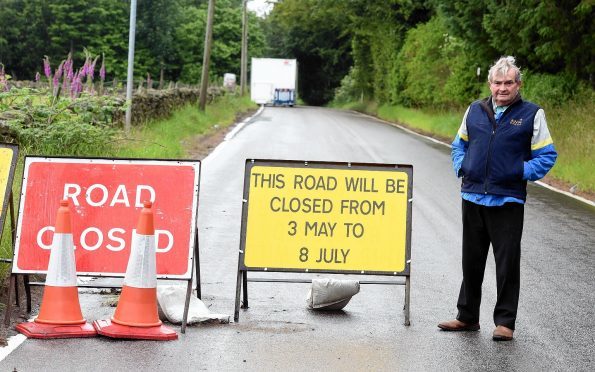 A busy Aberdeen road, which was shut for four months last year, will be closed again for a lengthy period from next week.
Countesswells Road will be inaccessible from January 16 for around eight weeks to allow for off-site infrastructure works to be completed for the development.
The news comes after the Cults to Kingswells road reopened in December. It was closed for around four months to allow for work to be done on the major Stewart Milne Housing development in the area.
The 3,000-home Countesswells development, which includes 750 affordable homes, schools, employment land, parks and leisure and healthcare facilities, is being constructed on a phased basis over 15 years and is worth around £1 billion.
Around a quarter of the 17,760,452sq ft site has been earmarked for open space which will include four parks.
But a number of residents have criticised the "prolonged closure" of the vital route.
Craigiebuckler and Seafield community council vice-chair William Sell said: "It's been a prolonged and inconvenient closure for the public that seems to have gone on and on.
"Residents have been trying to reach the western communities of the city and this is having a major impact on the travelling public.
"I hope the work is completed soon, so that residents can get back to normal. It seems these restrictions have been in place to help a private housebuilder."
Hazlehead, Ashley and Queens Cross councillor, Martin Greig, added: "This will continue and add to the considerable increase in traffic pressures in the Springfield Road area.
"This is the next parallel route for diverted traffic to the east. I have had many complaints, so the delay is adding to local concerns."
"The work was supposed to be finished weeks ago, so this is just prolonging the disruption and inconvenience for the local community.
"I think people have been very patient waiting for this, so they will be sceptical about this new re-opening date. "
Council roads spokesman, Ross Grant, responded: "As part of ongoing housing developments taking shape in the area, there are traffic restrictions required to carry out essential service and utilities work in order for the private developers to progress the scheme.
"Of course, this means inconvenience and delays to commuters which is regrettable, but the order is in place to ensure the works are completed as safely and as soon as possible."