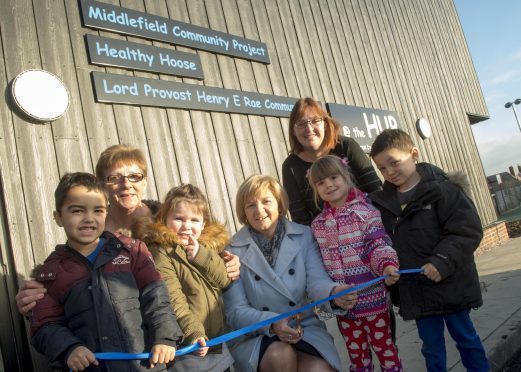 A new multimillion-pound community centre in one of Aberdeen's most deprived neighbourhoods was officially opened yesterday.
Council chiefs have ploughed more than £2.6million into the former Lord Provost Henry E Rae Community Centre in Manor Avenue.
Now renamed "The Hub", a range of new health, children's and nursery services have been added to the expanded building.
A café has also been included which it's hoped will provide the area with a central meeting point and give volunteers experience of work leading to job opportunities.
Middlefield has been designated a "regeneration area" by the local authority, with few shops, amenities or services in the area.
A "healthy hoose" section will offer medical advice on an appointments system and will be staffed by NHS nurse practitioners.
In the nursery, modern play equipment is provided, while there is an area to grow fruit and vegetables outside.
Many of the services were formerly housed in nearby blocks of flats which are soon to be demolished for the ambitious planned road which aims to ease traffic pressure from the Haudagain roundabout bottleneck.
Project manager Helen Graham said the centre was intended to be a "one stop shop" for the area.
She added: "We have been working towards this for a long time, so it is very satisfying to see it opening.
"It is good to have something as well for young people in the area.
"I think it has been great to bring all the services together in one place for the residents."
Council leader Jenny Laing said: "We looked closely at what the community were telling us and have tried to put them into action.
"It will be a space for the older and younger generations to mix and learn skills from each other."
Northfield and Mastrick North councillor, Gordon Graham, added the fact that 23 jobs had already resulted from the new development.
He said: "I think this will be a great asset for the area."
The £2.66million development, which is being part-funded by the Scottish Government's Regeneration Capital Grant Fund, was constructed by CHAP Construction.