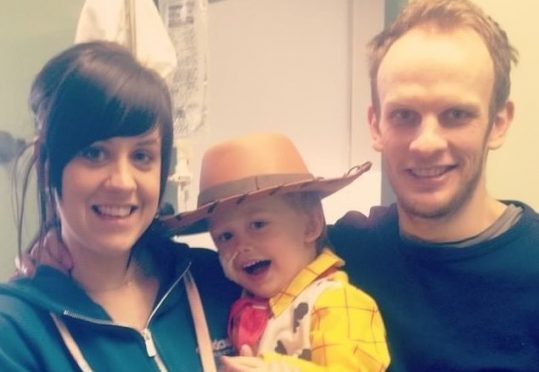 Youngsters battling cancer will be given the chance to enjoy a day out thanks to the fundraising of a north-east couple whose son tragically died from the disease.
Hollie and Kris Dear, from Tarves, set up the 'Hamish Dear's Warm Hugs' charity soon after their son, Hamish, died in 2015.
Their aim is to provide free days out and short breaks for patients being treated at the Royal Hospital for Children, in Glasgow, where Hamish received treatment.
Hamish bravely fought Neuroblastoma, an aggressive form of childhood cancer for nine months, but sadly passed away at the age of three.
Along with his mum and dad, Hamish spent most of his last nine months in the Glasgow hospital receiving treatment, but there were times the family could leave the ward to go for a day out to enjoy time together.
Although the Dears could afford to pay for these days out themselves, they want other children getting cancer treatment to have the same chance to enjoy shopping and leisure attractions without their families worrying about the cost.
Mrs Dear said: "We have some really happy memories of being out and about with Hamish and not just being stuck in the hospital ward.
"We want other families to experience this as well and hope that a 'warm hug' from Hamish will help keep children smiling through their toughest battles.
"We've already raised £30,000 to buy gift cards and vouchers that can be spent in shops and leisure attractions since we started the charity."
Now one of Scotland's biggest shopping centres has backed the parents' fundraising by making a donation to the charity.
Community development manager at Intu Braehead, Lydia Brown, said: "The donation from our community fund is definitely money well spent and we hope the youngsters and the families who benefit by coming along to the mall and enjoying our many leisure attractions at Soar."