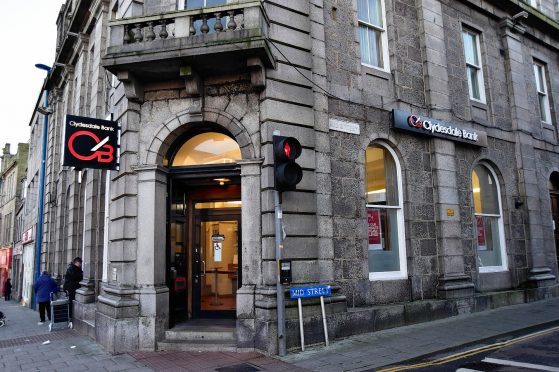 Councillors will today lodge an emergency motion to urge Clydesdale Bank to reconsider closures in the north-east.
Fraserburgh SNP councillors Brian Topping and Charles Buchan have raised concerns that closing the branch in their town and nearby Banff will hurt the local community.
The pair have also drafted a petition for local residents which will be presented to the bank, which announced cuts across the country last week.
Mr Topping said: "It's a petition to get Clydesdale to reconsider their closures in the north-east – not just in Fraserburgh but also in Banff and elsewhere.
"I appreciate nowadays, with modern technology, that many people do things online. That's why many shops are closing up and down the country. But for many people, particularly the elderly who don't have access to transport, travelling to far away branches is not possible."
It is understood Mr Topping will lodge the emergency motion at this morning's meeting of the Banff and Buchan area committee in Fraserburgh, urging his fellow councillors to support the call for action.
He added: "Let's show them that we very much appreciate them being in Fraserburgh. We must strike while the iron is hot."
The move comes as fellow Banff and Buchan councillor – independent Troup member Hamish Partridge – warns that the building housing the soon-to-close branch could fall into ruin.
Mr Partridge is concerned the prominent town centre building in Broad Street will be forgotten about once empty.
The councillor, who owns a business in the town, is instead hopeful the three-storey granite property can be incorporated into existing town centre regeneration plans if Clydesdale do not reconsider.
Announcing the closure last week, Gavin Opperman – customer banking director for Clydesdale Bank – said: "While the decision to close any branch is never an easy one, it is important that we, in line with other banks operating in the UK market, continue to respond to changes in the way customers want to bank with us."
The Fraserburgh and Banff branches are due to close in May. The nearest branch from then on will be respectively in Peterhead, 17 miles away and Turriff, 11 miles away.