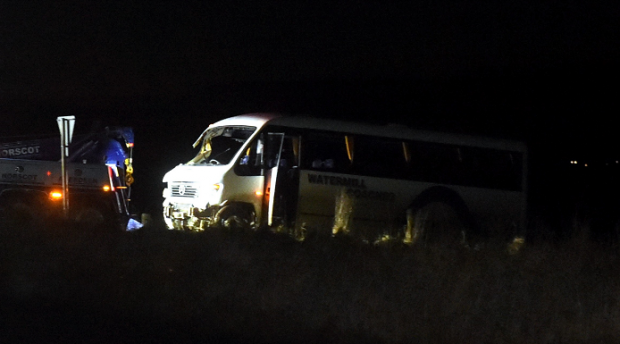 Two people were injured last night after a school bus collided with a pick-up truck on a country road.
The bus driver and a youngster onboard were hurt in the crash at Drumwhindle, which happened as Ellon Academy pupils were being taken home.
The bus collided with a Toyota Hilux towing a trailer on an unclassified road between the B9005 Ellon to Methlick and the A948 Ellon to Auchnagatt routes near the Mains of Auchreddie.
Police and ambulance crews were alerted at about 4.50pm, and two casualties were treated at the roadside. Their injuries are not believed to be serious.
Many parents of those onboard raced to the scene to pick up their children as news of the accident spread.
The front windscreen of the bus, operated by Watermill Coaches, was completely smashed. The vehicle was towed away before the road reopened at 6pm.
A police spokeswoman said: "It was between a Toyota Hilux and a school bus. It came to us about 4pm. It was on an unclassified road. There were kids on the bus.
"Ambulance were at the scene. There was no serious injuries. The road was closed for the recovery of the vehicles and reopened at 5.55pm.
"There were two people injured and they were treated at the scene by the ambulance service and did not have to be taken to hospital."
An Aberdeenshire Council spokeswoman said two people suffered minor injuries, with all other pupils picked up.
She added: "All the kids have either been picked up by parents or transported home. It was a contracted school bus."
Councillor Isobel Davidson, who represents Ellon and the surrounding area, said the road had some "bad bends".
She added: "It is always worrying when you hear a school bus is involved in an accident. Everybody is very aware and I know other drivers are careful when they see school buses around.
"Parents get concerned, there is no doubt, when they hear there has been an accident. News travels so quickly these days. It is very fortunate that nobody got hurt.
"The bus drivers are always very careful when they have got a lot of children with them, it is a precious cargo."
A spokesman for the bus company declined to comment last night.
The incident comes just weeks after a bus driver was charged with careless driving after a crash on a school run in the Lyne of Skene area.
The minibus collided with a red Ford Ranger 4×4 at the junction of the A944 Aberdeen to Alford and B9126 Lyne of Skene roads at about 3.25pm on December 12.
The vehicle had picked up a group of pupils from Skene Primary.
The children on board were said to be in "shock" following the collision, which left the bus badly damaged with one side caved in and a window smashed.