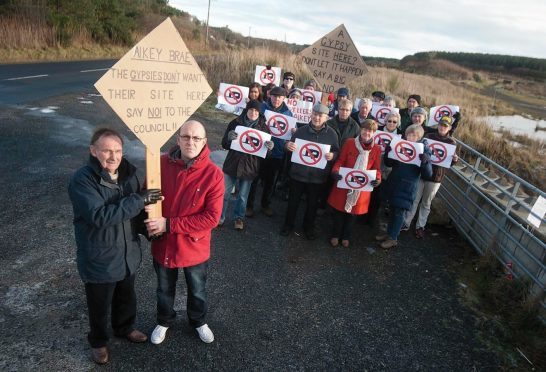 Planning chiefs are urging councillors to back a controversial travellers site – despite dozens of objections from local residents.
Aberdeenshire Council has lodged plans to create a 10-pitch stopover site at Aikey Brae, a disused quarry near Old Deer.
The site has historic connections to the gypsy community and has often been used for unlicenced encampments, but residents are furious that it could become an official spot and have protested against the plans.
A total of 83 "valid" comments were made to council planners during the public consultation, with 78 objecting to the scheme.
In a letter of objection, Old Deer community council chairman Norman Burnett said members are concerned the traveller site will discourage tourists from visiting the area.
He added: "The siting of a travellers' site is not compatible with the communities desire to protect, preserve and in the future, enhance this area."
In a similar letter, Old Deer resident Alexander Thom said that while he "understood" the council's duty towards the gypsy community, the choice of Aikey Brae is not "practical".
He said: "This is certainly not a wise choice of location for children or young people from their safety, health, schooling and
social integration points of view.
"Indeed, it puts their health at risk, creates difficulties for attending school, and hinders integration."
Concerns raised included a risk to pedestrians with increased traffic on the rural roads, difficulties accessing the quarry site and that "more appropriate sites" have not been considered.
The local council has a legal duty to provide accommodation for travellers but no official encampment has ever been built.
And in his report to councillors, infrastructure director Stephen Archer said there is a "identified need" for an official traveller site.
He added: "Due to the lack of site provision, Aberdeenshire and Aberdeen City experience more unauthorised encampments in comparison to other local authorities throughout Scotland."
Members of the Buchan area committee will discuss the application in Peterhead on Tuesday. A final decision will be made by full council later this year.