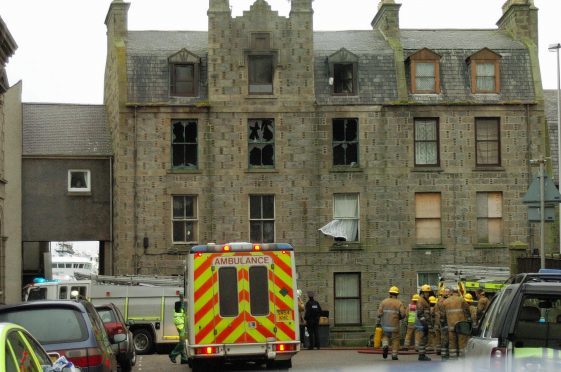 A block of flats where two men died in a fire is still for sale – 12 months after going on the market.
Derek Youngson and Derek Roy died in a blaze at the property on Kirk Brae, Fraserburgh, on Hogmanay 2006.
Police are still investigating the incident, but Aberdeen estate agents Martin and Co put the block on the market for offers of more than £420,000 last year.
They have yet to find someone willing to take it on.
Last night, a spokesman for the firm declined to comment on its sale.
Mr Youngson, 19, and Mr Roy, 47, were in a flat in the top floor when the fire broke out at about noon.
The teenager's mother – and Mr Roy's former partner – Catherine Youngson believes the pair were murdered.
The now-repaired flats are made up of 10 one-bedroom homes and one two-bedroom apartment.
And in an advert for the flats, the block is described as a "great investment opportunity".
Included in the sale is the basement of the building, which "has been considered for conversion into further flats or separate gym area".
The tenement was last on the market in 2008, when it sold for just £36,500.
Ms Youngson, who has four other children, has previously said that every day since her son's death has been a "struggle".
"I'm still grieving for my son every day," she said.
"I love and miss him so much, and so do my children. We're all grieving.
"I just want justice. He was so young and so full of life – funny and loving. I definitely believe it was murder. I wish I could
turn back time, and I'm trying to get on with my life but it is very hard."
Mr Youngson and Mr Roy are believed to have been overcome by smoke and fumes as they tried to escape from the flat.