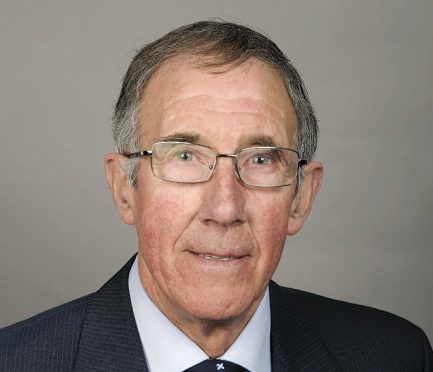 Contentious plans to build a wind turbine, which sparked a political "cronyism" row, have finally been rejected, nearly six years after the idea was first floated.
Turriff councillor, Sandy Duncan, and his family have been embroiled in a long-running row with local residents over their proposals to erect the 150ft structure on land at Beechwood near Forglen.
Planning permission for the scheme, which Mr Duncan's son Colin claimed would diversify their business, had already been withdrawn twice.
Mr Duncan and colleagues in Aberdeenshire's SNP group were accused of "cronyism" after it emerged the Turriff member had contacted fellow nationalists who granted planning permission.
He denied wrongdoing and subsequently referred himself to the Standards Commission.
The saga came to a close yesterday as a meeting of the infrastructure committee convened in Turriff to make a final decision. The scheme was rejected on advice of planners.
Addressing the committee, Colin Duncan said: "We're renewable energy enthusiasts with solar panels and two homes heated by biomass. It is claimed the turbine will have a significant impact on the landscape.
"We accept it will be seen – turbines can't be hidden – but to say it is significant is strong."
Mr Duncan added that objections were based on principle, not fact, and argued he and his family had been treated like "criminals" while trying to ensure the future of their business.
He was supported by SNP councillor Fiona McRae who contested claims the project would damage an "unspoiled" landscape, by saying: "The area is an industrial area for farming. It's not a playground."
However, following impassioned speeches from local objectors about the impact the scheme would have on Deveron and Upper Ythan valleys' protected landscape, the majority of the committee voted against the plans.
James Bayne, secretary of the Alvah and Forglen Community Council, added: "When we consider planning applications, we consider the views of the local residents and compare the application to the local development plan.
"We know the difference between "don't like" and "doesn't comply". An application either complies with the policy or it doesn't. This one doesn't."
Liberal Democrat councillor Peter Argyle proposed the committee reject the scheme. He said: "Whilst we support turbines in appropriate places, we do not want to see Aberdeenshire become a landscape of turbines rather than a landscape with turbines."