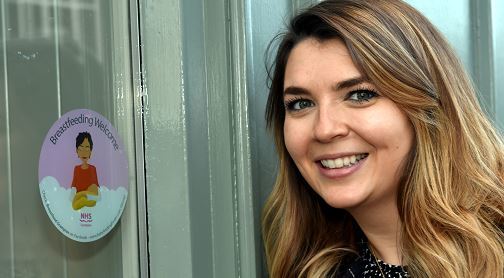 A north-east town is pioneering a new initiative to raise awareness of breastfeeding in public.
Businesses in Inverurie have signed up to the Breastfeeding Welcome Scheme (BFWS) – an NHS Grampian project which is being officially launched in the town on Monday.
The campaign aims to increase the number of companies, who actively encourage mums to use their premises to feed their baby, by displaying the BFWS logo in the window of their shop, cafe or restaurant.
To date, 19 Inverurie premises have signed up to the scheme, including Strachan's, Mitchell's Dairy, The Acorn Centre and Specsavers.
NHS-trained breastfeeding peer supporter, Jennifer Fraser hopes the scheme will attract as much interest as the Aberdeen city project did.
She said: "We are re-launching our breastfeeding group on Monday along with the new initiative and want to raise the profile of the Breastfeeding Act with the general public.
"Some new mums can feel a bit apprehensive about breastfeeding in public, so seeing this sign in a window can reassure them the staff will be welcoming."
Public health dietician Jenny Gordon led the development of the project and believes carrying the logo can benefit mum, baby and business.
She added: "The scheme is a great way for businesses to support breastfeeding mothers on their premises.
"Being a member of the BFWS reinforces a business's family-friendly image and helps educate the staff about the laws surrounding it.
"Wherever a mother sees this logo, they can be reassured staff will be welcoming and supportive of their right to nurse on the premises."
New figures have revealed some Aberdeen mums stop nursing within the first few weeks – partly due to the challenges they face feeding their baby in public.
Marketing manager at Strachan's in Inverurie, Shona Singer thinks the scheme is a "great idea" and has already put up a window sticker.
Mrs Singer, whose family have run the firm for 78 years, added: "We get a lot of mums in here and many of them breastfeed. We are very enthusiastic about it – especially because my mum was a midwife."
The Breastfeeding Welcome Scheme and Inverurie Breastfeeding group will launch on Monday, February, 6 at 1.30pm in the Tesco Community Room, Inverurie.