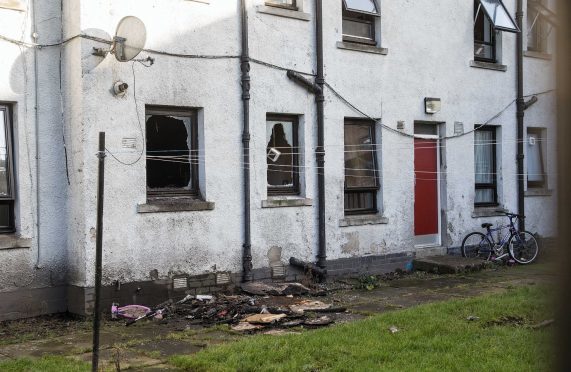 A north-east woman has said watching her boiler burst into flames was the "scariest moment" of her life.
A block of flats in Froghall Gardens, Aberdeen, caught fire on Friday morning causing residents to flee their homes.
The surrounding streets had to be sealed off for fears gas was leaking out and people were moved into the Froghall Community Centre.
Last night Vicky McKinnon, who was taken to hospital after suffering from smoke inhalation, said the incident was terrifying.
The 37-year-old said: "I was in the bath when I heard the bang and the electricity went out.
"I got out of the bath to find out what was going on and I heard another bang.
"Electricians had been out to fix new parts on the boiler on Tuesday and it blew up three days later.
"When I walked through to the bedroom to get some clothes I saw orange flames coming out of it.
"I was taken to hospital with smoke inhalation, it was made worse because I suffer from asthma.
"I'm so grateful for the workers at Sky Form who helped me out of the building as I could not see where I was going.
"It was the scariest moment of my life."
The healthcare support worker said she had no idea when she will be able to return home.
She added: "I've been put up in accommodation by the council.
"We have not even been allowed in to get our clothes, my parents have come down from Peterhead to help us out.
"I have no idea when I'll be able to get back into my home."
People in three surrounding blocks of flats were initially evacuated due to the risk of a major gas leak but they were allowed to return home last night.
However, residents of a further two blocks will not be able to return for the time being.
An Aberdeen City Council spokeswoman said: "Temporary accommodation has been made available over the weekend for those who required it.
"Arrangements are now being made to address the issue of medium and longer term temporary accommodation for those residents in blocks one and two who will be unable to return to the homes meantime."