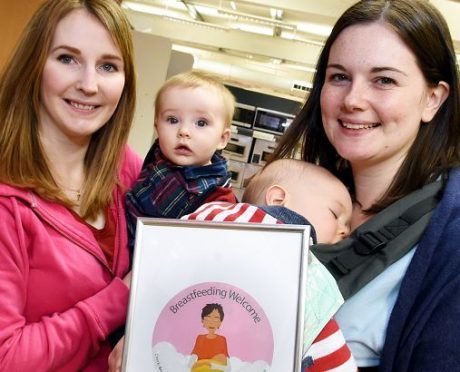 Becoming a mother can often prove a daunting experience.
But an Aberdeenshire town has just launched an initiative in a bid to help mums feel more comfortable when breastfeeding in public.
Businesses across Inverurie are the first in the region to join the national Breastfeeding Welcome Scheme and launched it yesterday at the community room in the town's Tesco store.
The range of outlets and facilities displaying the BFSW logo on their front windows includes Mitchell's Dairy, Strachan's, the Acorn Centre, The Kilted Frog, Will Chemists and Inverurie Library.
Originally launched in 2015 as a pilot project in Aberdeen by NHS Grampian, the health board confirmed more than 100 premises have now signed up to the venture in the city, with Inverurie leading the way for Aberdeenshire.
MSP Gillian Martin attended the launch and praised the efforts of the local support group.
She said: "This scheme has been very successful in Aberdeen and I'm sure it will be in Inverurie too. I was delighted to be asked along to help launch BFWS in Inverurie.
"It's great that new mums in the town can be sure that breastfeeding is welcome when they walk through the door of a business. For new mothers, it can be an overwhelming time, and there can be a reluctance to ask if breastfeeding is allowed within premises, but this scheme makes things that little bit easier for mothers.
"The women involved in setting up the group in Inverurie deserve a great deal of credit, as do the local businesses who have signed up to be part of this already."
Local volunteer and NCT breastfeeding peer supporter, Jennifer Fraser, was "delighted" with the turnout at the inaugural event.
And she added: "We hope we've increased awareness of the rights of nursing mums and the support available throughout all stages of their breastfeeding journey via our weekly group."
An NCT spokesman said: "Families and businesses need to know it is illegal to discriminate against a woman because she is breastfeeding when out and about.
"Asking breastfeeding mothers to 'cover up' or move to another area is likely to cause embarrassment, distress and humiliation, and is not acceptable."