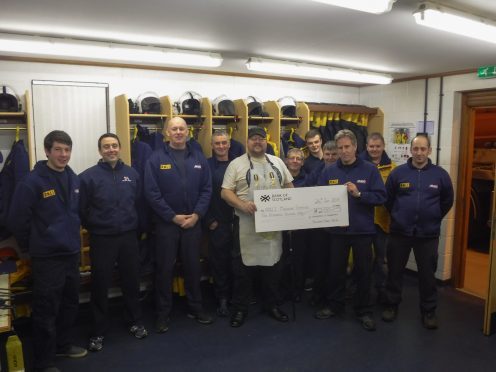 A north-east lifeboat station has been boosted by a cheque from a local man whose twin brothers died at sea.
Turriff resident Calum Mackinnon presented the volunteer crew at RNLI Macduff with a £200 donation.
The cash was raised by the Buchan branch of Ye Corporation of Squaremen as part of an annual fundraising drive.
Mr Mackinnon is originally from Elgol on Skye where his family are fisherman and he has been a supporter of the RNLI for many years.
He said: "I lost my twin brothers in an accident at sea in 1985 when they were only 18 and helping a neighbour who also perished.
"The local lifeboat at Mallaig pulled out all the stops to locate the bodies and return them to the family. One of my brothers was lost for over a month and they organised searches with local boats and with people scouring the coastline until he was found."
Mr Mackinnon said that, ever since that day, the people of Elgol, including his family, have raised funds for the lifeboat volunteers and the "fearless work they do" in all weathers throughout the year.
The £200 cheque came after Mr Mackinnon nominated the Macduff RNLI station as a chosen charity at the annual general meeting of The Squaremen.
Macduff coxswain Chassey Findlay said: "We are grateful for the donation from Calum on behalf of Ye Corporation of Squaremen.
"We have recently enrolled some new trainee crew members and this donation will be used to help fund their training in the next 12 months."