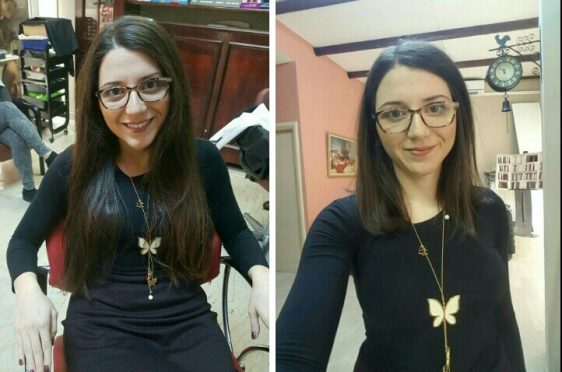 An Aberdeen student has raised helped two cancer charities by having her hair chopped.
Eleftheria-Artemis Gaitra had 12ins of her locks cut off, which will be donated to the Little Princess Trust, which makes wigs for young cancer sufferers.
Her efforts raised nearly £1,000 for Marie Curie, which offers care and support to those suffering from a terminal illness.
The third year student, who is studying pharmacy at the Robert Gordon University, decided to back the two causes in memory of her grandfather Jimmy, who died of lung cancer.
She said: "I wanted to donate to Marie Curie because I know that living with a terminal illness is exhausting and frustrating for both parents and the relatives and therefore they deserve the best possible care and support.
"I am lucky to live in a country that is as welcoming, giving and interesting as Scotland is, where I will be given the opportunity as a healthcare professional to collaborate with different charities in order to make a difference in people's lives."
Ms Gaitra's decided to cut her hair for Little Princess Trust was because of her passion to help others less fortunate, and because she believes even the smallest change can make a big difference to someone else.
Carolyn Snedden, Marie Curie fundraising manager, said: "Every day of your life matter when you're living with a terminal illness and the right care and support at the right time can make all the difference.
"Thanks to the generous support of people like Artemis, we can do more for more of the people who need us."