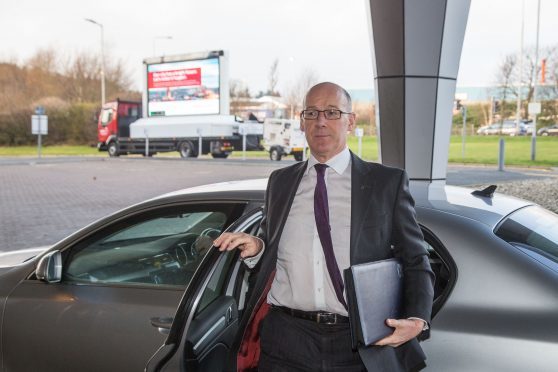 The SNP group on Aberdeen City Council have criticised their Labour opponents for campaigning with an electric van proclaiming their Granite City heritage – which was sent from Glasgow.
The vehicle will be driving round the city emblazoned with the slogan "Aberdeen Labour. Making it happen."
But it has emerged it was actually hired from Glasgow.
The van was yesterday deployed as a means of taunting deputy first minister John Swinney on his visit to the AECC.
But SNP group leader, Stephen Flynn, said: "For the Labour Party to constantly bemoan the central belt, then run straight to a Glasgow-based company to trail around their advertising is astonishingly naive.
"I'm sure I am not the only person who has raised a wry smile at this blatant hypocrisy.
"I can't quite accept there is not a company in Aberdeen, Aberdeenshire or the wider north-east who wouldn't be willing to provide a similar service – this is a complete own-goal, but comes as no surprise given how easily they have taken their eye off the ball throughout the last five years."
However, Labour finance convener, Willie Young, confirmed his party had recruited an Aberdeen company to come up with the marketing campaign.
He said: "Aberdeen Labour commissioned a local Aberdeen firm, Fifth Ring, to undertake the work on our behalf.
"It is ridiculous SNP councillor Flynn is making an issue about this when the fact of the matter is the SNP will not make a single decision about Aberdeen and its citizens without consulting first with his bosses in Edinburgh."