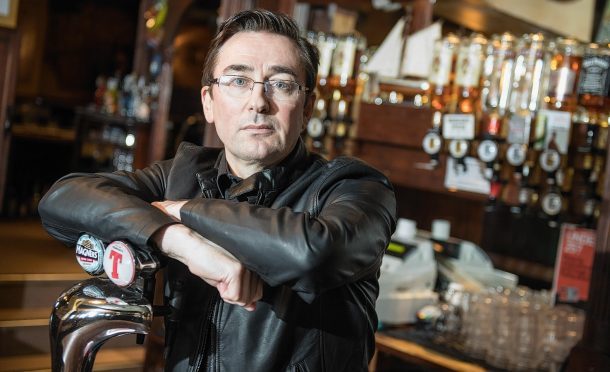 A publican who vowed not to be beaten by business rates has branded the new system a "joke" as it is revealed neighbouring firms face drastically different bills.
Fraserburgh entrepreneur Mark Forsyth, who owns four bars and a nightclub in the town, has spoken out about the Catch 22 situation he and his competitors face amidst the rates crisis.
As the backlash against the business rates increases continues, Mr Forsyth has questioned why there are so many discrepancies in the system.
Last night the landlord said: "I wasn't prepared for the last assessment because I was in hospital. I said never again and I've done so much research.
"There is no reason behind how buildings are assessed. You don't get any extra service for paying more – your waste and water are paid for separately."
The rateable value of Mr Forsyth's enterprises – the Ship Inn, The Clansman, The Elizabethan, Bellslea Sports Bar and Deejays Nightclub – has not risen after the businesses suffered a fall in turnover.
But Mr Forsyth said the cost of showing live sports – which essentially increases his rates – underlined that there is no "rhyme or reason" to the system.
"A big cost of our business is Sky and BT Sports which are priced on your rateable value. It's a Catch 22. By putting in Sky and BT you put up your turnover, which puts up your rates and then puts up the price of the sports TV. None of it makes sense."
Now he is considering pulling live sports from some of his venues.
Under the new rates relief system, neighbouring businesses are facing significantly different bills. Firms with a rateable value under £15,000 will pay no rates at all. Those rated between £15,000 and £18,000 receive a 25% discount. And businesses with a higher rate-able value will receive no relief at all.
Mr Forsyth added: "You could be slightly busier than pub next to you but have to pay over £8,000 in rates while they pay nothing. Businessmen are willing to pay their share as long as it's calculated in a fair and just manner."
Aberdeenshire's SNP-Labour led council is considering how to ease the rates burden on local firms.
The authority is currently analysing the changes and will publish a report in March. A fund of £3million has been set aside which could be used to alleviate the higher charges.