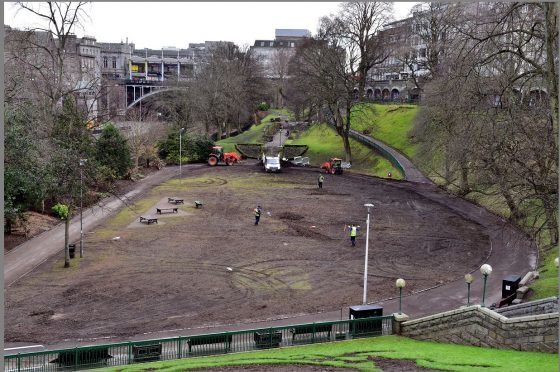 Part of Aberdeen's most famous green space will be shut until the summer, after damage was caused during the Spectra festival.
The central grass area of Union Terrace Gardens was covered in several inches of bark for the city's annual "celebration of light".
However, when the authority's gardeners removed the wood, they discovered the area more closely resembled boggy farmland than a park.
Midstocket and Rosemount councillor, Bill Cormie, has now claimed the grass removal was a recurring problem, which had caused problems after the previous two Spectra events.
He also voiced concerns the public would be denied the opportunity to visit parts of UTG throughout the arrival of spring and into early summer.
He said: "It's like a country field on a farm being prepared for sowing.
"Everyone I have spoken to said Spectra was a fantastic event, but unfortunately, now we have the clean-up afterwards.
"This is the third year in a row this has happened with the gardens. That section of grass will be fenced off until the summer while they [the council] re-seed it, which means people will have to wait for the grass to grow.
"I think the council need to realise that, if they put on a show of this type in the gardens, then this sort of damage will be done all the time.
"They should have learned the lessons of previous years and put in some sort of protective flooring and not six or seven inches of bark."
Last September, LDA Design, the company behind London's Olympic Park, was drafted in to drive forward the £20million revamp of the Victorian locale.
Councillors are expected to vote on whether to approve the designs later this year.
An Aberdeen City Council spokeswoman responded the affected ground "would recover", but this wouldn't happen for several months.
She said: "Following the hugely successful Spectra light festival, which saw over 60,000 visits to the event, ground services are working to remove the ground cover that was installed to protect the grass in Union Terrace Gardens.
"As in previous years, the ground will recover through regular scheduled maintenance and the Gardens have been reopened to the public."