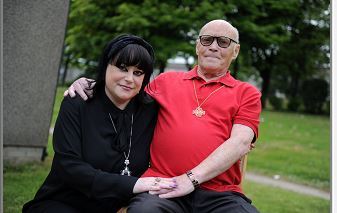 A wounded military veteran's daughter has claimed unpaid carers are being forced to skimp on food and heating because they get no help with transport costs.
Faith-Jason Robertson-Foy wants Aberdeen bus lane fine revenues used to subsidise cheap fares for those looking after family and friends.
But she says politicians and social care chiefs have failed to act because they don't understand the poverty faced by many people in her position.
The podiatry clinic manager spends at least four evenings a week with her father Robert – a former Gordon Highlander with serious health issues.
She does not own a car, so takes the bus between her Rosemount home and his sheltered housing complex in Stockethill – a cost she says she simply can't afford.
Ms Robertson-Foy represents carers on the new body set up to oversee health and social care in the city and has pressed senior figures to give more support.
She has also appealed to local and national politicians, including First Minister, Nicola Sturgeon, but feels her concerns have repeatedly fallen on deaf ears.
She said: "We save the economy billions of pounds, but they don't think we're worth the journey there and back? It's ridiculous."
She has now suggested carers could be given just two free journeys a day.
And she added: "When they ask what you want and you say 'I don't want to be in poverty' they just don't listen.
"We are struggling. Often, we don't eat one night because we've got to find bus fares to go to the loved one. We don't mind doing it, but give us the basic tools."
"There's so much money from bus lanes [fines]. What is happening to it? I looked online – there is pots of it."
Almost £1million was paid by drivers flouting the restrictions in 2016.
Aberdeen Health and Social Care Partnership calculates a bus pass for all the estimated 20,000 unpaid carers would cost £3million.
The cash-strapped body says it is "committed to looking at where the possibilities sit", but argued subsidised travel presented "a significant financial as well as logistical issue".
Ms Robertson-Foy argued the situation was contributing to the number of delayed discharges – because carers felt unable to collect relatives from hospital.
She stated: "They've worked all day, they're knackered and they're thinking: if I now spend the money on this bus fare, I can't put the electricity on, I can't eat."