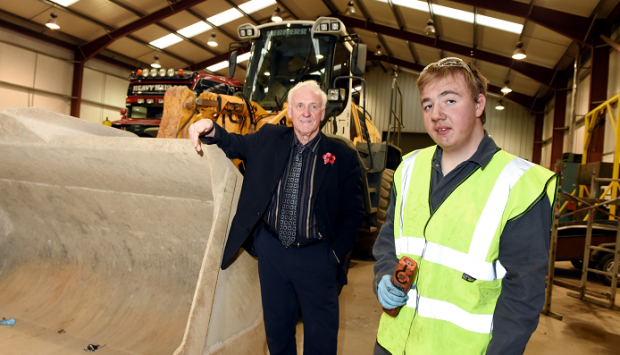 A north-east business owner is convinced that apprenticeships are the best way for people to learn and progress in their chosen careers.
Bert McIntosh, the owner of Echt-based McIntosh Plant Hire and a former apprentice himself, thinks they equip people with skills for life that help them progress in their chosen career.
Mr McIntosh also revealed that he still uses skills which he learned in his apprenticeship today at the age of 73.
After leaving school, Mr McIntosh served a six-year apprenticeship as a builder, plasterer and slater.
And he said: "What you learn in the first few years of your life, if you are set on what you want to do, forms the basis of your whole life.
"I picked up a lot of skills that I carried on using in my career.
"And I still go back to my roots of how I would do things when I was young today."
Mr McIntosh believes too many people make hasty decisions about going to university when they have a great opportunity to learn within an apprenticeship.
He added: "Practical experience is the best way to learn. You can go to university and be away for four years doing a degree and, when you come out, there is no guarantee of a job.
"There are big, big openings for the people who are willing to leave school and use their hands and their heads and go to work.
"If people ask me, I tell them not to rush away to university or other courses because there are great opportunities through schemes like apprenticeships.
"And the calibre of apprentices is probably higher now than it ever has been because they are getting so much education at school.
"So, if they come from school into an apprenticeship, they can be really successful."
Mr McIntosh has called for more apprentices to be offered openings, because their absence could lead to a skills shortage.
He said: "Anything that can be done to boost apprentices is good because there is going to be a lot of development in the next few years, so it is time apprentices were taken on."