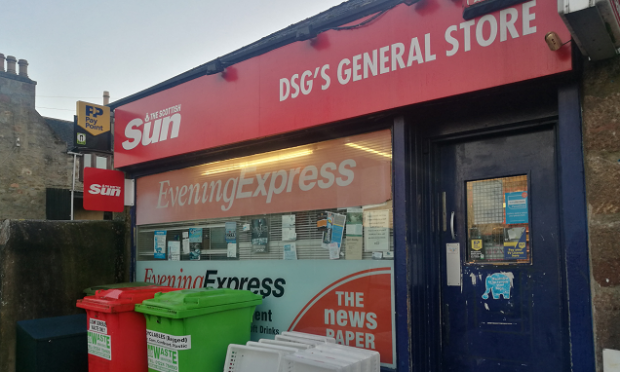 An armed robber who targeted an Aberdeen convenience store and then fled in a stolen yellow car has been jailed for more than four years.
Jay Jay Kirton and Richard Cameron previously admitted carrying out a knifepoint robbery at DSG Stores on the city's Bankhead Road on June 5 last year.
Kirton, 24, also admitted stealing a Fiat Punto in the city's Provost Rust Drive and driving while disqualified and without insurance – after police found his DNA on the steering wheel and gear stick, along with his fingerprints.
Their victim, Laura Syal, saw the pair – who grabbed about £430 and cigarettes – get into the hatchback after the raid. She asked another employee to note the registration.
Yesterday Kirton and Cameron appeared at the High Court in Paisley yesterday to be sentenced.
Solicitor Advocate Chris Fyffe said Kirton now felt sorry for the shop worker he terrorised, and that the crime was a result of his "longstanding, entrenched drug addiction".
He said: "He expresses remorse and regret for his behaviour and, to some extent, recognition of the effect of his actions on the victim of his crime.
"He accepts a custodial sentence is inevitable."
Advocate Ronnie Renucci said Cameron was also aware he was going to jail for the offence.
He explained: "There is no one to blame but himself and he accepts he has to pay the penalty.
"His explanation for how he became involved in this venture is the all-too-familiar and depressing story of a life blighted by the misuse of drugs.
"At the age of 30 he recognises he is too old for that life now and recognises that something has to be done."
Sentencing both men, judge Lord Ericht told them it had been a "terrifying" robbery.
He jailed Kirton for four years and two months, Cameron for three years and six months.
Last night, Detective Chief Inspector Matt Mackay welcomed the sentences and said they reflected the "seriousness of their calculated and brazen crime".
He added: "Thankfully no one was injured, however the ordeal would have been terrifying for the young shop worker involved. It was only through luck and good fortune that she wasn't seriously injured or worse.
"I hope this serves as a warning to other offenders that such crime will not be tolerated. Any offences will be robustly investigated to ensure those responsible are brought to justice and that the public are kept safe."