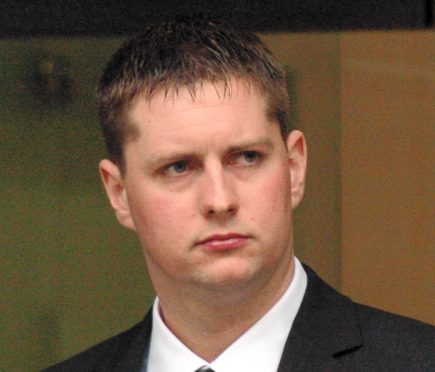 A former police officer today admitted stalking and assaulting a married woman while having an affair with her.
Fabian Wright, 39, was in a relationship with Lynne Davidson after he was released from jail for killing a teenager by driving dangerously on a city street.
The police constable was off duty at the time of the tragedy in 2005 and was suspended from the force after the crash happened.
He was found guilty of causing Lisa-Marie Wyllie's death following a trial in Aberdeen and jailed for five years in 2006.
Wright was back in the dock today for engaging in a course of conduct which caused his ex-girlfriend to suffer fear and alarm after he had served his prison sentence.
Fiscal depute David Bernard told Aberdeen Sheriff Court that the former cop became involved in a relationship with Mrs Davidson in 2009. He said her husband had been diagnosed with a terminal illness three years earlier and was spending time away from home receiving respire care.
He said: "Since approximately 2009 the complainer sought comfort in an on/off extramarital relationship with the accused.
"The complainer describes her relationship with the accused as a turbulent one.
"On various occasions she tried to end the relationship."
However, Mr Bernard said Wright refused to accept that she did not want to see him again.
During their time together, he seized her by the throat, pushed her, banged repeatedly on the door of her Banchory home and smashed one of her windows.
He also bombarded her with calls and text messages and referred to her with abusive language.
Wright, of Aberdeen, pled guilty to an amended stalking charge yesterday. Parts of the charge were deleted including accusations that he threatened to murder Mrs Davidson and drove close to her vehicle in an intimidating manner.
He also admitted striking the mother on the head while she was out for dinner with a friend at Pizza Express in Aberdeen on May 9, 2015.
The court heard that Mrs Davidson eventually ended the relationship in 2015 but was forced to change her phone number because of all his texts and calls.
On one occasion he called her more than 30 times in once day.
Mr Bernard told the court that Mrs Davidson called in police during one incident at her home.
He said: "On the 1st of May the complainer visited her husband at his care home. On returning, there was no sign of the accused at the property.
"However, about five to ten minutes later the doorbell rang several times and the accused was shouting for her to let him in.
"The complainer was alarmed by this and proceeded to hide in her bedroom and contacted the police.
"The accused was heard to shout words to the effect of 'Lyn, let me in. I love you"."
Sentence was deferred for background reports until later this month.