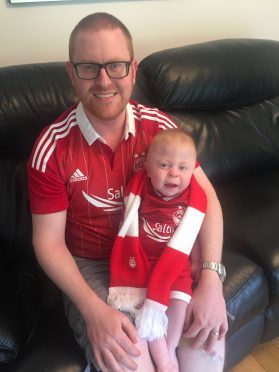 An Aberdeen fan is appealing for help after he lost a prized piece of club memorabilia.
For the past few years, Bruce Edmond has been attempting to collect the signatures of all the members of the 1983 Cup Winners Cup on the shirt worn in the final.
So far he has managed Sir Alex Ferguson and goalscorer Eric Black to autograph the strip.
And yesterday, he added Gothenburg Greats Jim Leighton and Neale Cooper's signatures at the Dons' 1-0 victory over Partick Thistle in the Scottish Cup Quarter Final at Pittodrie.
However, after returning home to Inverurie on the 6.01 Aberdeen-Inverness train, he realised the shirt was nowhere to be found.
The 39-year-old, who works as an accountant, last remembers having it at the stadium.
He is now desperately searching for any clues to where the top might be.
"Fingers crossed I find it tomorrow but fear that it's long gone", he said.
Mr Edmond has asked anyone who finds the shirt to contact Pittodrie on 01224 650400.