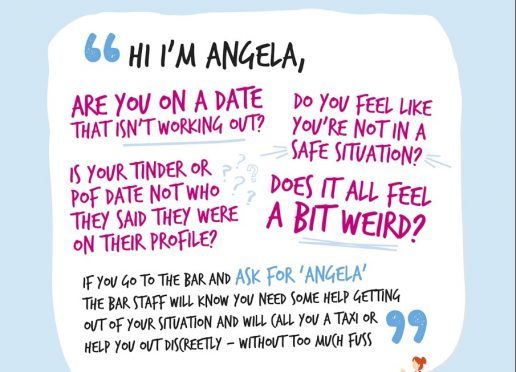 Aberdeen singletons are being encouraged to "Ask for Angela" if they are on a date that goes wrong.
The phrase is part of a code-word campaign that will let bar staff know if people feel unsafe in city centre bars and clubs. The staff will then offer assistance to those who request it.
The idea, which was originally conceived by Lincolnshire county council, is designed to protect the public throughout Aberdeen.
The motivation behind the scheme is dating sites such as Tinder and Plenty of Fish, which allow people to meet strangers online.
Deputy leader, Councillor Marie Boulton, said: "I am delighted we have now launched the Ask for Angela campaign in Aberdeen.
"It has been hugely successful in Lincolnshire and well received from people across the UK."
The initiative is being backed by a coalition of organisations such as Unight Aberdeen – a collection of bars and clubs in Aberdeen, Police Scotland, and the council.
A spokeswoman for Rape Crisis Grampian added: "We hope the Ask for Angela posters will give both men and women the confidence to ask for help and support and know that someone is there to help them."
Posters will be advertised throughout pubs and clubs in the city centre from March 10.