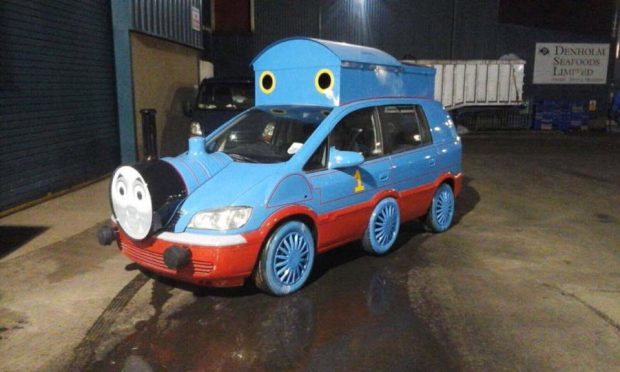 A group of north-east fundraisers, who built a Thomas the Tank Engine car for a 2,000-mile road trip have already amassed more than £2,000 for a spina bifida charity.
Peterhead quartet, James Ritchie, Graeme Smith, Graham Cowie and Allan Taylor, created the unique machine to enter the Benidorm Banger event.
The team – who have called themselves the Bloo Toon Loons – used their £500 budget to transform a Vauxhall Zafira family car into the bright blue children's character.
Thomas the Tank Engine is a favourite of Mr Ritchie's two-year-old son, who has spina bifida. The challenge starts on May 1 and, on their journey, the Loons will face a series of obstacles arranged by the event organisers.
Mr Ritchie said: "I've just had a look at our Virgin Money giving page and we are overwhelmed with the donations so far.
"Thank you everyone – we really appreciate the kindness and words of encouragement, all for a good cause. Not long now, only eight weeks to go until we set off on our Benidorm Banger fundraising challenge."
The Peterhead father revealed that the task of redesigning the vehicle had not been happened without difficulties, but had been worth it to raise funds and awareness for Spina Bifida Hydrocephalus Scotland.
The group packed bags at a local supermarket to drum up £1,300 worth of donations.
And they will
To contribute, visit:
virginmoneygiving.com/team/bluetoonloons