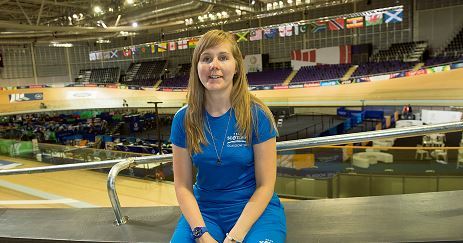 North-east school pupils are relishing the chance to saddle up with a talented Paralympic athlete next week.
Aberdeen's Laura Cluxton will meet fifteen pupils from Banchory Academy who are all undertaking this year's 'Across Scotland' cycling challenge to raise money for the new facility.
The visually-impaired paracyclist is taking time out from training for next year's Gold Coast Commonwealth Games to talk to the plucky pupils on Monday.
They are preparing for the gruelling 358-mile journey in May across the northerly tip of Scotland, starting at Cape Wrath.
The S2 and S3 pupils will additionally hop on a ferry to the Orkney Islands and cycle around mainland Orkney before sailing to Shetland and travelling to the most northerly point of the UK – Herma Ness National Nature Reserve.
Since the school launched the 'Across Scotland' trips ten years ago, more than £103,000 has been raised for various local charities.
This year, the youngsters have chosen to split the funds equally between two charities they feel passionate about.
Half will be going to ACIS, a mental health organisation which supports young people in the north east and half to FABB (Facilitating Access Breaking Barriers) Blazing Saddles project.
As an ambassador for the project, Ms Cluxton hopes that every penny raised will take the charity closer to opening the first all-ability cycle hub in Aberdeenshire.
Project development officer, Jan Brereton, added: "As yet, a location has not been confirmed for the new facility, but we are close to making an announcement."