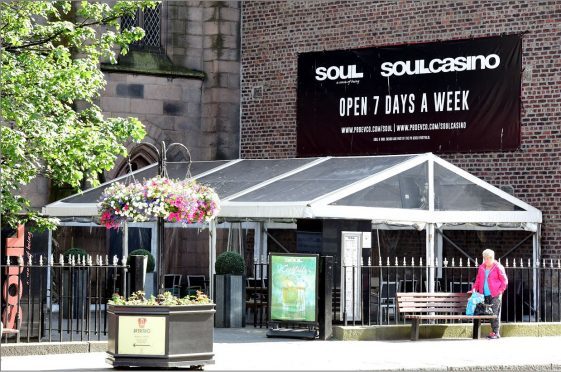 Police have objected to five Aberdeen nightspots, who are bidding to extend their opening hours.
Babylon, the College bar, Soul, the McGinty's Meal and Ale on Union Street, and the Queen Vic on Rosemount Place are all striving to keep their doors open later.
The applications are due to be discussed at a meeting of the city's licensing board next week.
But all five proposals face opposition from the police, with written objections from Chief Constable Philip Gormley amid concerns over "alcohol-fuelled violence and disorder".
Babylon, which currently closes at 3am, hopes to stay open for another hour on Fridays and Saturdays.
The College bar wants to extend its opening hours from noon to 2am from Sunday to Thursday, and 1pm to 3am on Fridays and Saturdays.
Soul bar and casino is attempting to push back closing time from midnight to 1am from Sunday to Thursday, and from 1am to 2am on Fridays and Saturdays.
And the Queen Vic, which currently closes at 12am, is pushing for a 1am closing time on these two days.
All four venues are owned by PB Devco, who say they have put forward the proposals because of a shift in "drinking habits" in the city.
The firm has also revealed it hopes to compete with other establishments which have been granted later licenses in the city, such as the Foundry on Holburn Street, which was recently granted an extension to 2am on Fridays and Saturdays.
Paul Clarkson, director at PB Devco, said: "We have put these applications in because of the way the current climate in Aberdeen has changed.
"We are looking at different options for what our customers are after these days.
"There has been a change in general drinking habits in Aberdeen and we are going to try and match that with different opening times."
Meanwhile, McGinty's hopes to shut its doors one hour later, at 2am on a Friday and Saturday.
The popular watering hole, which recently underwent a major refurbishment, is proposing to put on more live entertainment.
The pub's director Allan Henderson has also claimed the application reflects a change in night-time trends in the Granite City.
He said: "We think it's really important in difficult economic times for the city that there's a vibrant night-time economy – the trend across the country is moving a little bit away from night clubs and more towards bars with later opening hours."