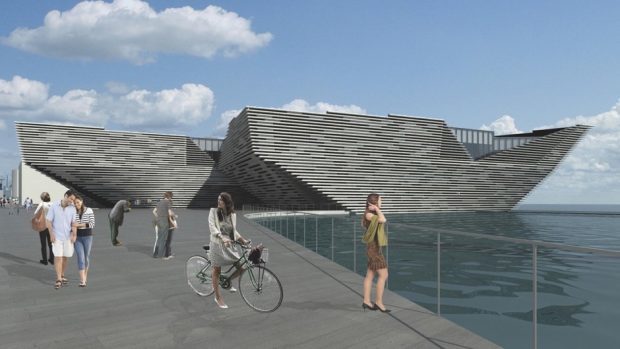 A museum and gallery inspired by the world-renowned V&A in Dundee could form part of Aberdeenshire Council's new headquarters.
The north-east authority is in talks to relocate from its current base at Woodhill House in Aberdeen to a bespoke civic centre at Inverurie Loco Works FC's Harlaw Park football ground.
And now, one north-east councillor has proposed including a "significant visual arts, museum or other cultural facility" as part of the development.
The Press and Journal has learned Democratic Independent and Green Group member Martin Ford has lodged a motion to debate the proposal at next week's education committee meeting.
The motion is designed to consider the merits of the idea, seek public views and identify funding. Council co-leader and committee chairwoman, Alison Evison, has accepted the motion for debate.
Last night, Mr Ford said: "The motion doesn't commit the council to anything beyond an exploratory process. But it's an exploratory process we should do, and we need to do it now before the site is master-planned.
"Personally, I rather like the idea of an Aberdeenshire museum, but that's clearly just one possibility. I want to see what comes out of the discussion and consultation that I hope results from the motion I have tabled."
"The point is, who would have predicted the V&A going to Dundee? Someone had to suggest it, against all reasonable expectation, and it happened."
The £80million V&A Museum of Design will dominate Dundee's ambitious waterfront development and tourism chiefs believe the project – which will open to the public next year – can make the Tayside city a must-see UK destination.
Mr Ford added that a cultural centre would have a huge benefit for the people and economy of Aberdeenshire, and would enhance both the "quality of life" and "profile" of the region.
The idea has received early support from tourism body Visit Aberdeenshire.
Its chief executive Steve Harris declared: "We are in favour of anything that adds to the cultural contribution in the area. Any investment in the north-east's cultural output can only be a good thing, and will bring further economic benefits to the area.
"We fully support the principal of a new cultural facility in Inverurie. We're excited to see what the future holds for the proposed new facility."