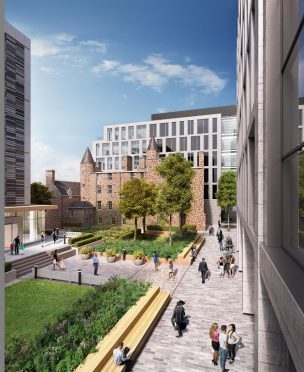 Heritage chiefs have called for more time to consider ambitious plans for revamping one of Aberdeen's most historic buildings.
Under the proposals, the 16th century Provost Skene's House will be redeveloped as a museum honouring respected residents of the north-east throughout history.
A planning application for listed building consent was lodged last month and includes installation of new doors, visitor barriers, heating and ventilation systems, lighting, power and alarms to the A listed building.
But in correspondence seen by the Press and Journal, Historic Environment Scotland (HES) has now said that the application contains "insufficient information" and has called for an more time to consider it.
It states: "We consider that there is insufficient information currently submitted with the application to allow us to properly comment in terms of potential impact on the listed building."
Provost Skene's House – which dates from 1545 – previously housed a series of period rooms, furnished to show how people lived in the 17th, 18th and early 19th centuries.
It is proposed to develop it into a "hall of heroes" with inductees including Annie Lennox, Dame Evelyn Glennie, Denis Law and Stuart MacBride, and would be due to reopen in summer at the same time as the Marischal Square development being built around it.
But Aberdeen South MP Callum McCaig has raised concerns that the home could be turned into a "soulless shell" after the work.
Lorna McHattie, a prominent critic of the Marischal Square development, said: "To do justice to the new use for Provost Skene's House, no ill-thought through work should progress.
"We are looking for a resource of international quality here, which will take time and funding to complete.
"We would rather delay work and have a good quality job done, than rush something through."
A spokesman for HES said: "We've responded to Aberdeen City Council requesting more information on the proposed development of Provost Skene's House.
"We understand this is now being considered by planning officials and expect an update soon."
An Aberdeen City Council spokesman said: "We are working very closely with Historic Environment Scotland to ensure we receive a timely and satisfactory outcome for the redevelopment of Provost Skene's House.
"All information required is being expedited to them to ensure they can process our applications as soon as possible."