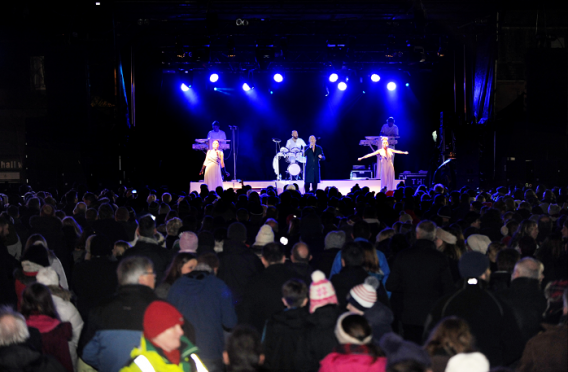 The comeback of a popular Hogmanay event that will make Stonehaven "the place to be" at New Year has been backed by councillors.
Glasgow-based Two Presentations Ltd have been granted permission 'in principle' to use the Market Square in Stonehaven for a live music event on December 31.
The Open Air in the Square (OAITS) event did not go ahead in 2016 after the community organisers found themselves in financial difficulty.
Now members of the Kincardine and Mearns area committee have backed its return as a fully-commercial venture for the first time – though a full licensing application still needs to be processed.
Councillor George Carr said he backed the proposal because it would be a huge tourist pull for the town.
He said: "I think it complements the Fireballs and will be another big attraction for Stonehaven.
"We won't be able to please all of the people all of the time, but it is only one night and it will bring economic benefits.
"It is the first time that the event will be fully commercially operated – but let's try it this year and see what it is like. "This type of event is too big for community volunteers to run, plus the operator will take on all the financial risk.
"Stonehaven will soon be the place to be at Hogmanay."
Details of the line-up are yet to be announced, but Glasgow based Two Presentations Ltd have assured local councillors that it will be of a "similar era to recent acts" that have previously played the New Year's Eve gig.
80s icons Simple Minds and The Human League have been headliners, but Keith Montgomery, director of Two Presentations, was very tight-lipped last night about this years's possibilities.
He said: "We can't announce anything yet as we are still in talks with some people.
"But we want to make a really decent event that will bring people up from Glasgow and Edinburgh up to Stonehaven – to fill up the hotels and bars for a few days.
"We will be looking to employ local people on the night to provide the on-site food stands.
"I was told that the one stumbling block was the square being out of action for so long, so we have planned the event just to be taking up the space for two and a half days – hopefully that swayed it."