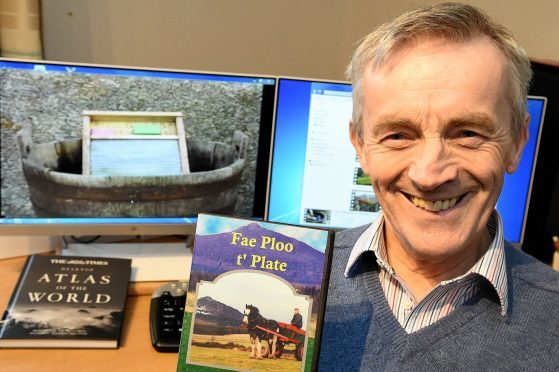 North-east firms are being asked to get their staff spikkin the "Mither Tongue" as part of a week-long celebration of the dialect.
Academic, Don Carney, is behind the first ever "Doric Wik", which is encouraging employers to converse in the region's native accent with the aim of changing attitudes towards it.
He hopes to get local councils, tourism boards, politicians and other key figures and groups on board with the project, which will allow locals to use the tongue as part of their day-to day work routines.
Doric Wik will begin on May 8, with the idea met with support from the likes of musician and broadcaster Robbie Shepherd.
Mr Carney is behind Carney Heritage Productions ltd, and has spent years capturing the north-east's cultural heritage and identity through video footage.
He has been dubbed "Dr Doric" after obtaining a PhD for his work safeguarding local culture.
He said Doric Wik would tie into VisitScotland's year of history, heritage and architecture, to give a "formal voice" to an "iconic aspect" of the regional identity.
An estimated 119,000 people speak the Doric in the north-east, roughly 49% of the local population.
Doric Wik was also organised by way of supporting Aberdeenshire Council's endorsement of the tongue, after the local authority committed to incorporating it into syllabuses within schools.
Former lecturer Mr Carney said he hoped the project would build up a "cultural pride in who we are" and lead to workplaces and classrooms embracing the tongue.
He added: "It is celebrating fa we are. If there are nearly 120,000 folk in the region speaking it lets make it more open for us to use in business, tourism and education.
"Aberdeenshire Council are promoting this Doric, I just want to try to promote it further. I already promote it on the international stage and I just want to do that it in my home area.
"Lets give it a try for the week. Folk sometimes don't speak the Doric, they speak 'proper'. Well, it is proper.
"I have proved you can use Doric at the highest academic level. Let's celebrate who we are.
"It is a celebration of Doric, not a festival. It is just an opportunity for folk to use it in whatever form.
"It will give folk that can speak it the formal opportunity to express themselves in the work place.
"If there is a plus to it, if tourists come to Aberdeen and hear Doric, it differentiates us from any other part of the world."
Anyone keen to take part in Doric week can e-mail: info@scottishheritage.co.uk