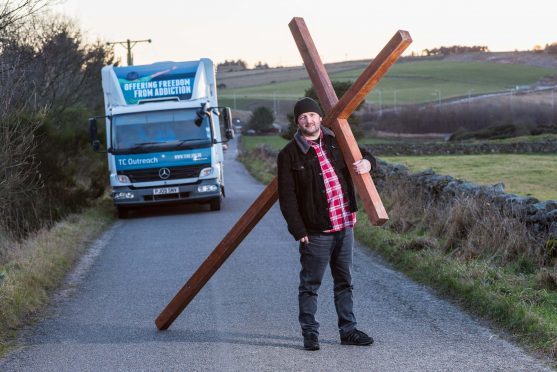 A north-east charity fundraiser will set off on a 600-mile walk around Scotland this weekend – carrying a 12ft cross on his back.
Gordon Cruden, area manager for addiction recovery charity Teen Challenge North East Scotland, is taking part in the People's Crosswalk Challenge.
Mr Cruden is setting off on his unusual mission on Easter Sunday. The initiative will involve Mr Cruden and as many supporters as possible circumnavigating Scotland carrying the 45lb wooden cross.
The team will attempt to complete the 600-mile route in just 30 days, meaning they will have to travel on average 20 miles on foot every day.
Ahead of the walk, Mr Cruden said: "It's clear that our work to put hope in the reach of addicts, and help them out of the mess and mayhem of addiction, is as essential as ever.
"The initiative will raise money needed to buy our women's addiction recovery home, Benaiah, as we look to do all we can to help individuals from becoming another heartbreaking statistic."