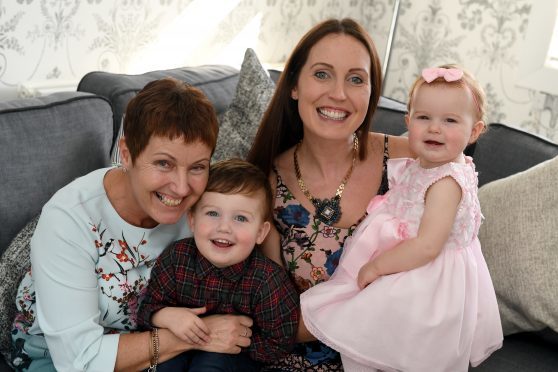 Occupational therapist Milly Hutcheon is looking forward to strutting her stuff on the catwalk next month.
But as well as raising money for Friends of Anchor, she is also keen to highlight the importance of regular screening.
Mrs Hutcheon, who has always worked in care homes around the north-east, leads an active, healthy lifestyle and was shocked when she was diagnosed with colon cancer last year.
After not feeling herself, she had a colonoscopy and it was when the consultant asked to speak to her afterwards that the truth dawned.
The 57-year-old, who is originally from Dingwall but has lived in Aberdeen for most of her life, said: "I knew by my husband's face. There was a tumour.
"I was shell shocked.
"I went swimming three times a week, didn't smoke and went walking the dog.
"My daughter was the hardest person to tell."
Mrs Hutcheon was rushed into surgery on an already-tough day for her family – the birthday of her late daughter, who died in a car crash when she was just 19.
She is sure she caught her cancer early because her family do home tests, and urged others to do the same.
"There was no family history that we knew of," she said.
"We do the two-year bowel screening that you can do in your home. Anything you are offered, you should take."
While in the hospital receiving chemotherapy, Mrs Hutcheon came across Friends of Anchor and saw firsthand the support they offer.
"The chemo affects everybody differently," she said. "In the ward they provide basic support.
"There was hand cream and you would be sitting getting your nails done.
"I lost weight and had to wear gloves as I was frozen. My whole body was stinging with the cold."
Now she is keen to give something back by taking part in Courage on the Catwalk on May 6 and 7 at the Beach Ballroom.
"It will be lovely," she said.
"Everybody in the rehearsals have one thing in common.
"There is a bond there.
"It is a good thing for the charity. They [the models] can show what they have been through. It is a part of your life.
"I have been very lucky I have support.
"The lesson I have learnt, is we are here and to always appreciate life."