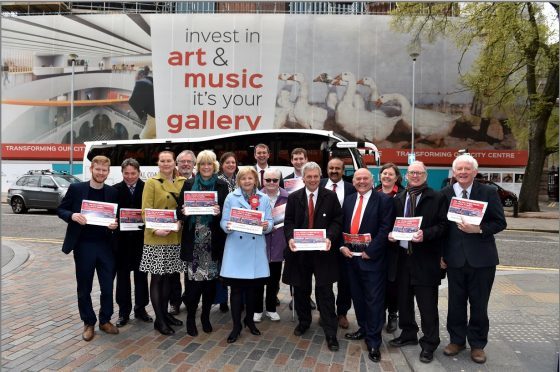 Aberdeen's ruling Labour group have vowed to build new care homes, thousands of houses and pump £10million into repairing pot holes – and bid for a second city deal to help pay for it.
A bus in front of the city's art gallery, symbolising further commitments to bid for the city of culture crown in 2025 and to investigate bringing a council-run bus service to the Granite City, was wheeled out yesterday as the local party revealed their manifesto for the upcoming council elections.
The Labour group, currently the largest party in the town house, is hopeful they can again form a coalition to keep them in power for a further five years.
The SNP is the only group to have put forward enough candidates to achieve a majority although they are also likely to require a coalition to achieve power.
Other eye-catching proposals in the glossy 29 page document include building new care homes through the arms-length Bon Accord Care body, which the SNP group say they would abolish, and ensuring all council contractors are paid the living wage.
With free city centre wi-fi already running in many streets around the Granite City, the party said they would put Aberdeen at the "cutting edge of the digital age" by bringing in super-fast 5G broadband.
Labour also say they would prepare a business case for introducing controversial "low emission zones" which could ban cars or heavy vehicles from certain sections of the city.
Group leader Jenny Laing said her administration had already proved their cultural capital with multi-million pound renovations of the art gallery and music hall – and would seek to draw more tourists to Aberdeen in a bid to diversify the region's oil-reliant economy.
She said: "We need to build on the firm foundations we have laid over the last five years, we want to move forward in the city.
"If Aberdeen is to realise its bright future we need continued investment in infrastructure and communities.
"I think we have shown a real commitment to regenerating the city centre. If we are to attract a greater number of people to live and work in the city, and indeed visit, we have to make sure our cultural offering is competing not just on a national stage but on a global stage."