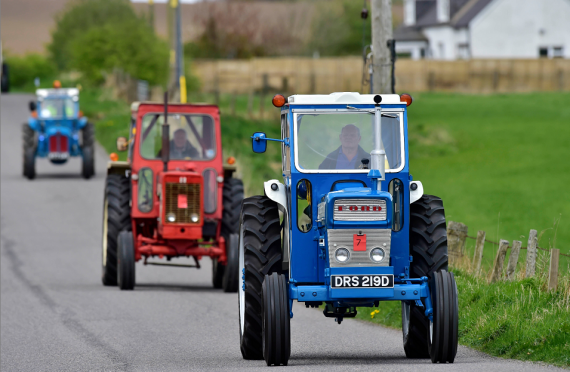 An annual vintage tractor event is expected to raise thousands for good causes in the north-east.
Yesterday marked the 17th annual Buchan Vintage Tractor Run which has raised more than £90,000 since it began.
The cavalcade of historic farm machines toured across Aberdeenshire after setting off from Fetterangus at about 10.30am.
It travelled through Dunshillock, Ballring, Lenaboo, Newton Kinmundy, Clola, Westknock and Stuartfield, where the proud motorists stopped for lunch.
Afterwards, it was on to Scroghill and Old Deer before returning home.
This year, the run was held in aid of the Buchan Renal Unit and NHS Grampian's discretionary fund for its breast unit.
Last night, organiser Doug Nicol said almost 100 vintage tractors, some dating back to the 1940s, took part in the event.
"It was a good day for it," he said.
"It went really good. We don't know how much money we've raised yet but 97 tractors took part.
"We raise money every year for different groups and this year we decided to raise it for the Buchan Renal Unit and NHS Grampian. Since 2000, we've raised £95,000 for charity.
"There isn't a special reason for us picking groups, we just like to give everyone a turn."
Mr Nicol added that "plenty" people also stood at the roadside to cheer on the fundraisers as they passed.
"We've already started planning for next year's run," he said.
In previous years, the tractor run has raised funds for Peterhead Community Hospital, Marie Curie, cancer charity Clan and the Asthma Clinic at Fraserburgh's Saltoun Surgery.