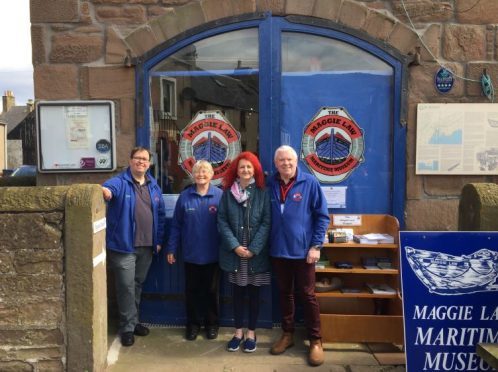 A Mearns maritime museum will celebrate the art of boat-building this tourist season.
The Maggie Law Museum in Gourdon has thrown open its doors for the summer, with entertainment and talks lined up over the weekend.
And the team of volunteers have also revealed their programme for the upcoming months will include a new play about the Titanic.
The museum houses the Maggie Law, one of the first inshore lifeboats built in 1890 by James Mowatt. The boat, which was rowed by six men and in service for 40 years, saved 36 lives.
The attraction also displays a bolt from the Cutty Sark and other relics from Gourdon villagers, including a ring owned by a fishermen taken prisoner of war from fishing vessel The Bella.
Chairwoman of the Maggie Law museum committee Marie Carnie said: "The theme for us this year is boat building in Gourdon and we will be hosting a new play about the Titanic – as we have a link through John Cargill, the Gourdon man who was quartermaster on the Carpathia – the first vessel to respond to the SOS call."
The story of John Cargill can be read in the museum and gives his first-hand account of the rescue and of how he was reunited with some of those he saved, many years later.
The museum is largely self-funded and is run by volunteers.
Mrs Carnie added: "We are always on the lookout for more help, so please get in touch with us if you would be interested."
For more information visit www.maggielaw.co.uk