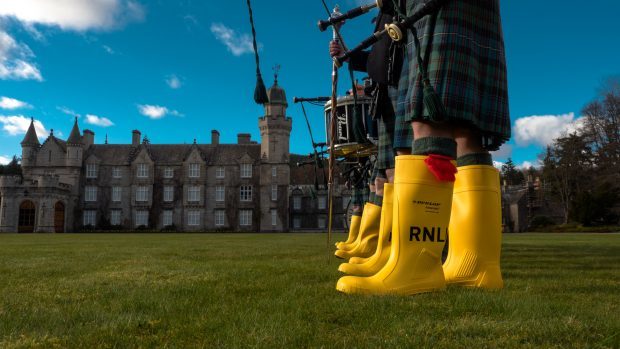 Billy Connolly once sang about the virtues of the humble wellington boot and musicians of all ages have now swapped their traditional ghillie brogues for yellow wellies to support the latest RNLI campaign.
Mayday is the charity's annual national fundraising event and it is calling for people to "Do your bit, fund our kit" and hopes to raise £750,000 for life-saving equipment this year.
The Ballater and District Pipe Band marched in to help the cause at Balmoral Castle and wore the RNLI's iconic yellow wellies.
Band members, ranging from 83-year-old, Alistair Skene, to nine-year-old, Sophie Cooper, were delighted to endorse the charity's Mayday campaign.
Drum Major Ian Esson commented: "I'm really pleased to be supporting the RNLI by swapping my usual foot wear for a pair of wellies. The RNLI's volunteers couldn't save lives at sea without their yellow wellies and the rest of their lifesaving kit."
The RNLI's Aberdeen inshore lifeboat played a major role in helping the Ballater community after it was flooded in December 2015 when institute volunteers brought rocket-powered line throwers to enable new overhead lines to be strung across the Dee.
Anne Scott, RNLI Community Fundraising Manager for the Aberdeen area, added: "Mayday distress calls can come in any time, day or night, and 365 days a year.
"In 2016, RNLI lifeboat crews launched no less than 8,851 times, rescuing 8,643 people and saving 431 lives.
"Scotland's coast is long, varied and beautiful, but not everyone is aware of the dangers the sea can bring. They may not be aware of the efforts the RNLI and its army of volunteers go to, in order to keep the public safe round our coast."
Mayday fundraising events are taking place across Scotland, many of them with a yellow welly theme.
To find an event near you, visit www.RNLI.org/Mayday